Hello and welcome to Word of the Week! It was so lovely to be back last week after the Christmas break, and an absolute pleasure reading and sharing your words.
If you're new here, Word of the Week is a nice and simple weekly linky, with everyone welcome to pop by and share. You reflect back on the past week and sum it up in one word. Then share your word with us in a blog post, with as little or as much explanation as you like. It's a fun and friendly linky, so please do be lovely and visit as many of the other blogs as you can and share with them your thoughts on their words and weeks. I do comment on every entry to the linky, and if you add the Word of the Week badge to your post to help spread the 'word', I also tweet them out.
My word of the week this week is:
Now those who know me would attest to the fact that patience is most definitely not one of my virtues!
My patience has been tested over the past few days, with Little Man and I full of colds at the end of last week and then with Boo having a sick bug over the weekend. That also meant that she stayed home on Monday, a day that felt longer than usual as the Husband had to work up in Leeds that day so was up a couple of hours earlier than normal (which meant I was wide awake, too, of course) and came home two hours later than his usual time, too. Oh boy, Monday felt like a long day! Then Little Man was back to nursery on Tuesday and he made it very clear, from 6am that day, that he did not want to go. I really felt for him, but I know he needs to go and it will take time to settle. He's back there again today, and he cried about it off and on all of yesterday so I'm anticipating another difficult morning.
The knock on effects of these events have been less time to work as plans have gone to pot a little, and I struggled to concentrate on my uni work on Tuesday as I was worrying about my boy. Ah well, it also meant that I baked more, read more, and played more. All good things, right?
I do think that my ability to remain patient and keep my temper (it does have a tendency to flare) is down to last week's word 'Slow'. I'm still there, the feeling is lasting, the planning, organising and minimising distractions is all working to keep me sane and ticking over. A week like this could easily have gone a different way with a different attitude, but you'll still find me dancing round the kitchen and taking every moment I can to cuddle my kids.
What about you? What one word sums up your week best?
Please grab the badge, link up and share.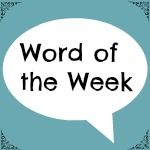 Linky opens at 6.30am Friday, to midnight on Sunday.