You know me, I like to be organised. I find that family life ticks along much more smoothly when it's well organised. There are so many balls to juggle, the only way that I can keep on top of everything is by organising myself, and in turn my home.
A friend asked me the other day how I keep so organised which did get me thinking. I am a born organiser, I know that, some of us just are, aren't we? But that's not a particularly useful tip to pass on!
So I thought a little more, and I have managed to sum it up in these 3 things. I feel that these are the 3 essentials that I need to keep chaos at bay, these are the systems that I would recommend to stay organised.
Routine
Everyone needs one. And everyone needs to know and understand it.
Now I am not suggesting that we have a Saturday afternoon routine, not all of life needs to become a routine!
However, when it comes to things that we need to do regularly and sometimes under time constraints, a routine is essential.
We have a weekday morning routine, and we need it.
It means the Husband's never late for work and the kids are never late for school. It means everyone's starting their day with breakfast inside them and as happily as we possibly can when it's a work/school day! Everyone's routine will look different, but there needs to be one if you're to start each day well and not be screaming at everyone to find their shoes at 8 in the morning!
The same can go for bedtime, mealtimes, work, pretty much anything that you need to do regularly.
You might also find 7 Ways to Start Your Day Brilliantly useful here.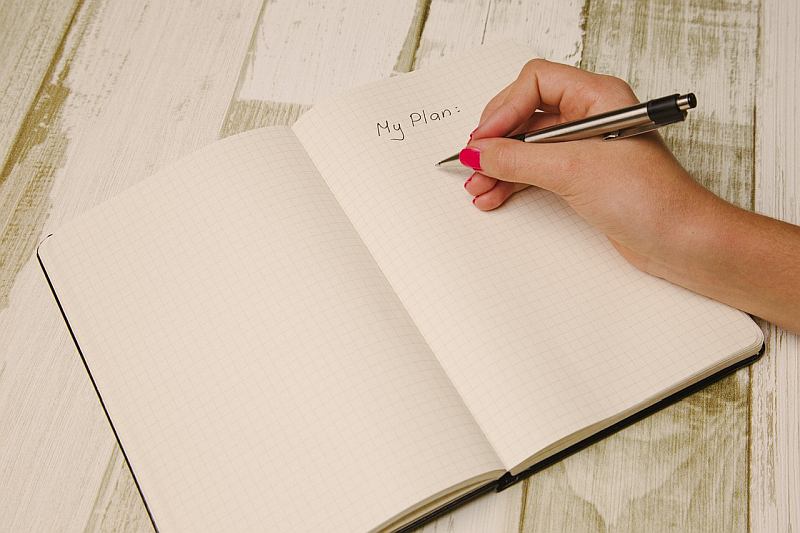 A List
Ah, the humble list. For me, it's always a pen and paper list, but it can be whatever and wherever you want it to be. Just make lists.
A list keeps you on top of EVERYTHING. It may be one list, it may be multiple lists, and I would recommend lists are all kept in one place.
You're only going to contribute to more chaos by keeping lists all over the place and then struggling to find them! I wouldn't be without my bullet journal, it keeps me on track constantly.
Keeping everything in your head doesn't work, even if you have an amazing memory. Sometimes other people need to see the list and sometimes it simply helps to empty your head out by writing things down. This should clear your head and help you to be more productive each day and week.
Without a list you could spend time chasing your tail and you'll often get that nagging feeling that you're forgetting something. When it comes to you, write it down.
Make lists for upcoming events/occasions you need to plan for, lists around school, work, home life, daily to-dos, whatever you need.
Try it, it works.

Calm Communication
I do say 'calm' as shouting as the chaos descends is not how you want this one to go! Don't get me wrong, I have been there many a time, and every single time that it happens I think to myself, why didn't I just communicate better in the first place!
Just because you have a list and a clear plan of action in your head as to how things need to go and what needs to be done, it doesn't mean that everyone else in your house does.
They don't know the plan, they might not even be aware of the endgame. So clear and calm communication is key here.
This can mean a variety of things. It could mean to ensure that everybody knows what is expected of them, which is often the quickest route to avoiding frustrations and misunderstandings.
It might mean timely reminders, it might mean family discussions to agree things. Whatever form it takes, getting the chat in advance of an event or change or to remedy a situation that's just not working at the moment, keep it calm, open and easy.
If you do this ahead of time, it should reduce those meltdown moments that only add to the chaos!
These are the 3 essentials to keeping chaos at bay in our home, what would you add that helps you out in your home?