We've recently been sent a new game to play, thanks to University Games. We've been giving 5 Second Rule a go…
The game of Quick Thinking and Fast Talking! It should be easy to name 3 breeds of dog; but can you do it under the pressure of 5 seconds twisting away? Time's not on your side, so just say whatever comes to mind and risk ridiculous answers slipping out! It's all in good fun with the fast paced family board game. Ages 8+ years. For 3-6 players.
The set up for this game is straightforward, the rules easy to follow. As you can see, you've a game board, the question cards, the timer (it makes a fun noise that my son adores!) and the 'Pass On' and 'Switch' cards which enable you to duck out of a turn when need be.
Each person takes a turn to try to think up three things in answer to their question cards. They're not especially challenging, but once you have a five second timer on you, they suddenly become very difficult!
The sorts of subjects that you'll have to think up answers to in the blink of an eye are…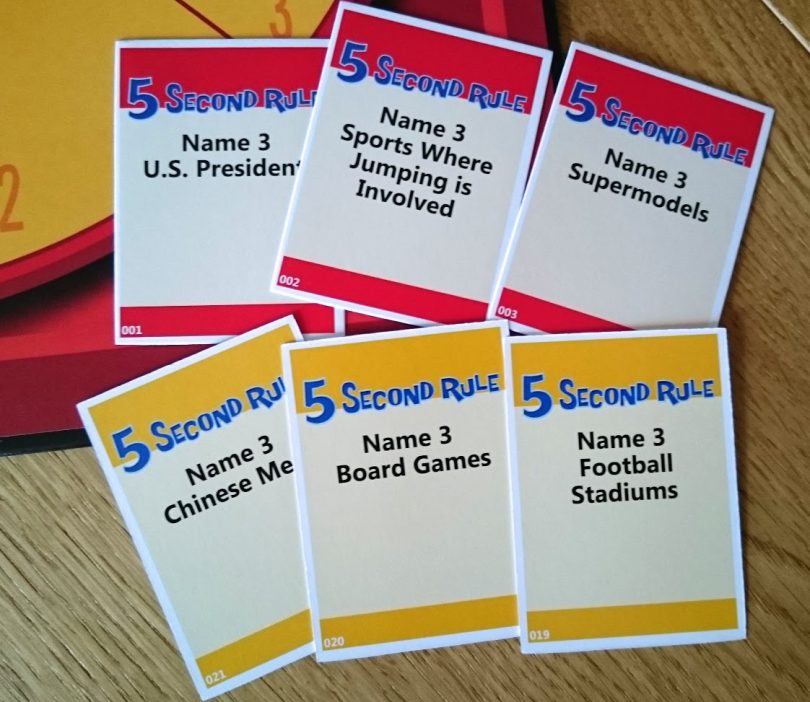 I know, I know, you're looking at those and think you can answer them all, but do it in five seconds, with all eyes on you, and it is not as easy!
The verdict?
I love it. It's simple to set up and follow, easy for all to play and makes me laugh. This one did get a mixed response from my family. It's the fast-thinking element that divided us. My brother and I loved it as we both do well when put on the spot and think and can articulate ourselves pretty quickly. Whereas the Husband and my mum weren't as sure, as they would rather have a bit more time, but then, that's not the game, is it?! The Husband is a huge fan of Scrabble and beats me nine times out of ten, as he does really well with a lot of thinking time. Give us just a few seconds in a game and I can win, hooray! It's funny to play a board game and for everyone to feel the pressure on their turn, and we all did, which kind of adds a level of hysteria to proceedings which makes it all the more fun. It's a great family game that's accessible to all.
Competition
I now have a copy of this game up for grabs. To be in with a chance of winning it, enter using the rafflecopter below. The competition is open to UK entrants only and closes at 12am 4th April 2016. Good luck!
What appeals to you about this game?
Disclosure: We received a copy of this game FOC for the purposes of this post