I have had pen pals for several years now, and as many of you know, I run several Bring Back Paper pan pals sign ups and papery activities every year, along with running the wonderful Bring Back Paper group over on Facebook. As such, I do get an insight into the kind of things that people like to do when they have pen pals, which is why today I am sharing 8 treats to send to your pen pal.
I know that for some, it's about lovely, chatty letters whilst for some, it's more about postcard swapping, and it can be everything in between.
It can be getting to know about another country, culture and language and it can be finding common ground with someone you've never met yet feel you've known for years.
We all look for different things when we pen pal, and for those of us who have several pen pals, we probably do different things with different people. It keeps it all interesting.
As we are talking pen pals, before I get into the treats to send, I will just share here a little peek at my pen pal session set up, for those of you looking for some pen pal and happy mail inspiration. I like to surround myself with papery goodness as I settle in to pen pal!
Let's move on then as I want to share a little snail mail inspiration for any of these pen pal friendships as these are sure to brighten any pen pal's day, 8 treats to send to your pen pal.
Now, I am talking about sending stuff through to your pen pal here, but of course it could be to absolutely anyone. Perhaps your aunt could do with cheering up or you think it would be fun to surprise your best friend with a little package this week?
We all receive such dull post most days, wouldn't it be great to send a smile through the mail this week? And if you love this idea, but just don't know what to send, just read on for inspiration!
8 Treats to Send to your Pen Pal
A book
I just had to start with this one! What could be nicer than sending on a book that you have read and enjoyed to your pen pal? It's a fun way to introduce your pen pal to new authors or genres and you know that they are going to be delighted with such a treat arriving for them.
A pocket letter
Have you seen these? These are different to normal letters and you can really get very crafty and creative with them. I shared how to make pocket letters the easy way here, if you fancy giving these a go.
A colouring sheet
This could be a printable, a sheet or two from a colouring book, a doodle of your own or a postcard. It's a way to invite your pen pal to take a break, switch off and get creative.

A cup of tea
OK, not literally, but a nice teabag is a sweet way of sending someone a five minute break. They can get the kettle on and settle down with your letter, a lovely way to slow down for a few minutes.
A few stickers
Who doesn't like stickers? This is such an easy item to pop into an envelope and they are fun to receive. If you know a few things that your pen pal likes, you can tailor your stickers to their interests.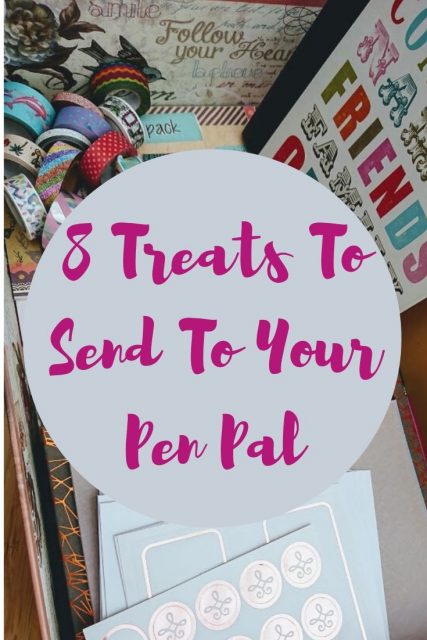 A token from home
Most of us write to people who live in a different town or city to us, or another country. That's why it's a good idea to send a token from home, such as a local map, flyer for an event or celebration, postcard from the town or a souvenir.
A mini-book
This is another one for those of you who would like to get crafty with their mail this month. Here is how to create a mini-book, and then you can fill it with notes or question prompts.
A care package
These are always nice to put together, and are definitely appreciated by the recipient. If you know that your pen pal could do with cheering up, or perhaps for a special occasion, you could send them a care package. It can include a combination of any of the above, with perhaps a magazine, chocolate, photos, things to make them smile.
The list could go on and on, as you know your pen pal best and there are probably things that you are thinking of now that would be perfect for them. This list is just to get those cogs whirring and give you a few suggestions.
What will you send this month?
You might also enjoy Free Pen Pal Resources and What to Write to your Pen Pal. Are you ready to pen pal? Yes!! If you want to send some fun mail, you could get The Pen Pal Pack here and you can be writing within ten minutes, hooray!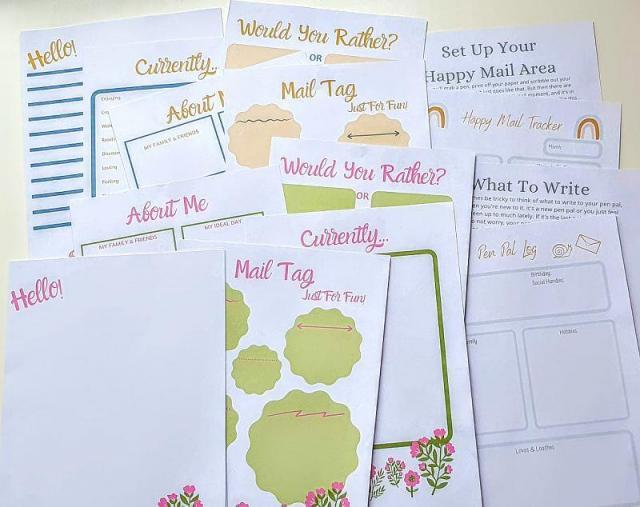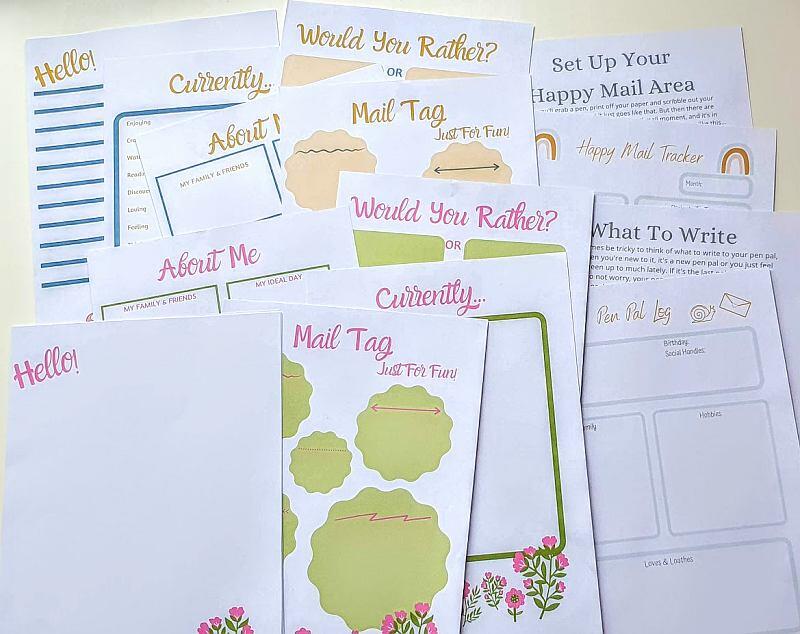 If you're new to Bring Back Paper, you can find out more about it all here. You can join our Facebook group here and you can sign up to join my mailing list below, for all the latest news, updates, ideas and activities.