Have you ever tried a heated jacket? Have you ever been out and about in the cold and wished that you had a heated jacket? I know that I have! Read on to for my 8K Flexwarm Heated Jacket review and the chance to win one…
About 8K Flexwarm Heated Jackets
Designed to be worn in any weather conditions, our collection of lightweight, versatile heated jackets and gilets provide the perfect balance of warmth, weight and style.
Our intelligently engineered outerwear gives you the ability to adjust your temperature from an app as well as the capacity to charge your smartphone on the go. Keeping you warm, comfortable and connected.
8K Flexwarm Heated Jacket Review
I have received the 8K Flexwarm Heated Hoodie to review…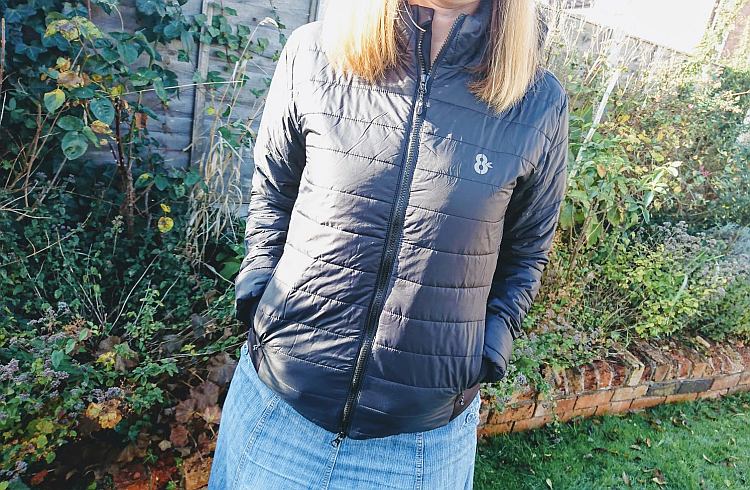 I am normally someone who feels relatively warm, though I have noticed in recent years that I have felt the chill of winter more than I have before (am I just getting old?!).
It's usually the school runs, when I am standing around waiting for the kids to come out in the afternoons when I feel it most, so I have tested this coat on a few school runs to see whether it makes a difference.
And yes, yes, it really does.
The 8K Flexwarm Heated Hoodie is very easy to get ready and use.
It comes with a power bank that needs fully charging up for 6 hours before you use it for the first time. Once it's charged, you connect it to the USB in the inside pocket of the jacket.
I have to say when I first saw this I thought it would be heavy and cumbersome, but it isn't at all, you don't realise that it's there.
You are then good to go and can either download the 'Powered by Flexwarm' app to your phone or use the buttons on the jacket to control the heat.
I have been happy just using the buttons as they are easy to access. I have found that the battery lasts for two to three days worth of school runs for me and then I need to charge it.
That has been with full power on all zones, so I suspect it would last a little longer using the other options.
With the buttons, you can select your heat zones and then the temperature that you require.
You can set it to Low (40°), Medium (45°) or High (50°). Then you can opt for either the front, the back or all zones to be heated. It can reach its maximum heat within just 6 minutes.
My main concern with this jacket would be that I would feel too hot and uncomfortable in it, as I hate being too hot. But it's really not that kind of heat.
It's more of a toasty, snuggly, body heat kind of heat. Unless I am sitting back against something which makes the back panel press right against my body, it doesn't feel hot.
I'm just aware that there's a warm glow surrounding me, which is exactly how I want it to feel.
Having the buttons on the side means that I adjust it whenever I want to, and of course I am able to turn it off if I do feel too warm.
The sizes are on the small side, as I have a size XL, and I normally buy a size 14. The jackets are designed to be fitted, so the heat does not escape and you feel the benefit.
As you can see, there is an elasticated panel on either side at the bottom to allow for it to stretch, whilst still feeling snug against your body.
The jacket itself is very lightweight and not at all bulky, and machine washable. You would not think it could house such clever technology and get so lovely and warm.
I also like the style of it, it looks contemporary and understated. I'm pleased with the black option, though there are also navy blue, silver, red, orange and burgundy in the women's range.
There are three jackets available, all with the same technology, the gilet, the jacket and the hoodie. You can see the full collection here. There are also the same three options in the men's range. Prices start at £200.
The 8K Flexwarm jacket is just perfect for the school run.
As the temperatures have dropped over the last few days I have been using it daily and it has made a difference. I don't feel the frosty bite in the air in the mornings, much to the irritation of my friends – yes, I fear they may soon wrestle me to the ground to steal my jacket from me!
Competition Time!
I now have one black 8K Flexwarm Heated Jacket worth £225 (mens or womens) to give away to one of my lucky readers! To be in with a chance of winning it, enter using the rafflecopter below. The competition is open worldwide, to over 18s only, and it closes at 12am 17th December 2018. Good luck!
Do you need one of these in your life? Where would you wear your 8K Flexwarm Jacket?
Disclosure: I received this jacket FOC for the purposes of this review, though all opinions remain my own