My son is pretty active. He's exceptionally 'climby' – I know that's not a word, but he is! I find myself looking for activities that will keep him occupied for longer than 1 minute, and steer him away from chairs, stairs and steps! Keeping a toddler occupied inside can be challenging, but there are several simple ideas that should keep them busy. This is why today I want to share with you 9 indoor activities to do with a 16 month-old, as I suspect many of us are struggling with this one!
Entertaining toddlers with indoor activities
Keeping toddlers entertained indoors can be tricky as they tend to want to flit from one thing to the next. They also tend to want to do things that you don't necessarily want them doing!
The key here is to be prepared. To have a list of go-to toddler activities that can keep them occupied indoors and you can have ready for them within minutes.
Toddlers rarely give you much warning of when they will tire of an activity, which is why I am sharing a variety of different ideas. This way you should be all set and have something to hand whatever their mood or interests.
These are my suggestions for you, 9 indoor activities to do with a 16 month-old.
This post contains affiliate links
It can be tricky to find things that will hold a toddler's attention span, this I know, and if you're reading this I am guessing that you know too!
These are the indoor activities that actually do manage to occupy my son for longer than a couple of minutes, and the great thing about them is that most of them are fast to set up and cheap to arrange.
I find that as most of them are super simple to do, we can easily fill an afternoon with these ideas, just dotting from one activity to another.
I have included a few Amazon links to buy where I feel it's relevant and might be helpful, there are a handful of items that I know we wouldn't want to be without, so it makes sense to share those with you too. They are affiliate links, which simply means that if you buy through them, I earn a small commission, at no cost to you, thank you.
Indoor Activities To Do With A 16 Month-Old
1. Drawing
OK, so he's not actually 'drawing', but scribbling. It's fantastic for improving his fine motor skills, and he holds a crayon pretty well now. These easy grip crayons are perfect for toddlers. He delights in choosing different colours and making his marks all over the paper.
2. Bubble-blowing
Indoor or outdoor, and for our indoor play, just watch the floor to make sure it doesn't get too slippy. This one can keep him engrossed for quite some time! I tend to blow them for him to catch them or we use a bubble machine, but he likes trying to blow them himself, too.
3. Music-making (or noise-making to be more accurate!)
We do actually have a few musical instruments, but anything will do. He loves getting the saucepans out with a wooden spoon, too, and making a right racket with those!
4. Hide and Seek
Oh, he loves this! We play it with his sister, so he likes to be carried around while I do all of the hiding/seeking work!
We also like to play hide the dog. We have a little Happyland dog, that has become key to this game, but any object will do! Simply hide it from him, and tell him to find it. He squeals with delight when he finds it and likes to hide him, too.
5. Story time
My favourite. Depending on his mood, we may read 1, or it could be 3 or 4, in one sitting. He likes to choose them and bring them over to me (these are some of our favourite picture books). A trip to the library goes down very well, too.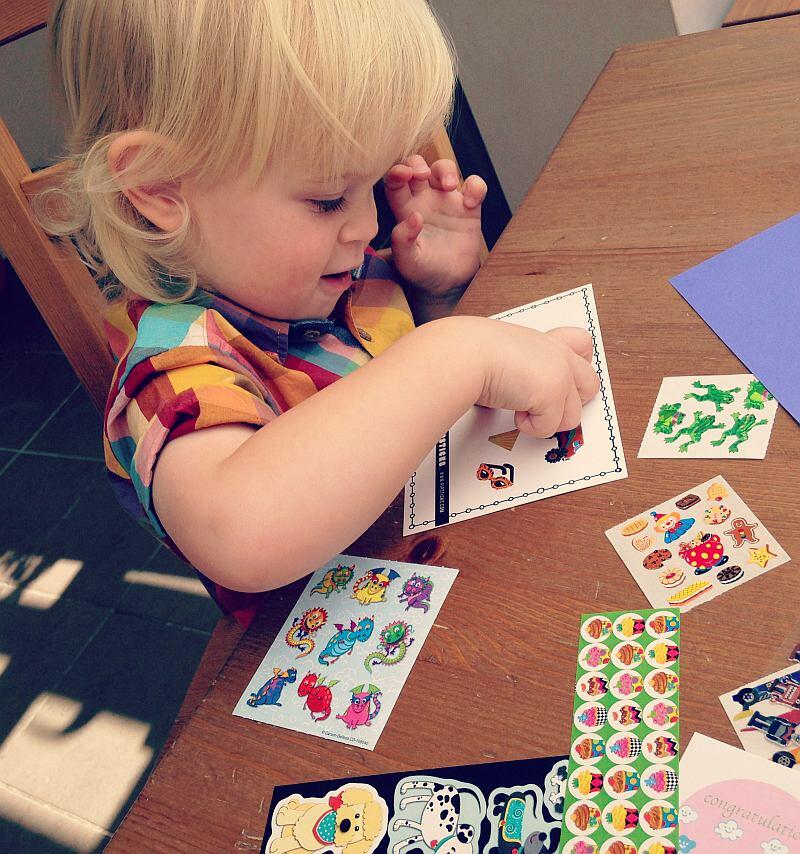 6. Stickering
So simple, sedate and relatively mess free. (though he 'might' try to eat them sometimes). These sticker books are great for little ones.
7. Play Doh
As long as you're away from carpet, Play Doh is easy and mess-free, too!
8. Tea parties
He loves his tea sets and kitchen play, and likes to offer me a cup to sip from.
9. Tickling and general man-handling!
The tickle monster, throwing and bouncing him on the bed, carrying him upside down will all elicit excited shouts!
There we have it, 9 indoor activities to do with a 16-month old. I think there should be something there for everyone?
Hoping this helps out someone else with an equally active toddler! What else would be on your list of indoor activities for a 16 month old?
Disclosure: This post contains affiliate links
You might also enjoy Indoor Den-Building in 5 Easy Steps
And Top Tips for Painting with a Toddler