As regular readers will know, I am a bookworm. And as I am very well aware of the benefits of reading, I am encouraging my children to be bookworms, too. One of the best ways that I have found to do this is to find an author, or even better a series, that they absolutely love. That way, they will whizz through the books, eager to read more about their favourite characters and worlds. But which book series' are the best ones? Well, here are our top choices, the best books series' for kids aged 6-10.
Now, can I say that it is a given that we own Harry Potter, Roald Dahl, Enid Blyton, David Walliams, Jacqueline Wilson books and more? We have pretty much all of the most popular books series and authors around, I think! The books featuring here are the ones that aren't quite as obvious, and they are the ones that my kids pick up to read again and again.
If you click on the titles, they will take you straight through to Amazon so you can read more about them, check out the reviews, and order them if you think your child would enjoy them.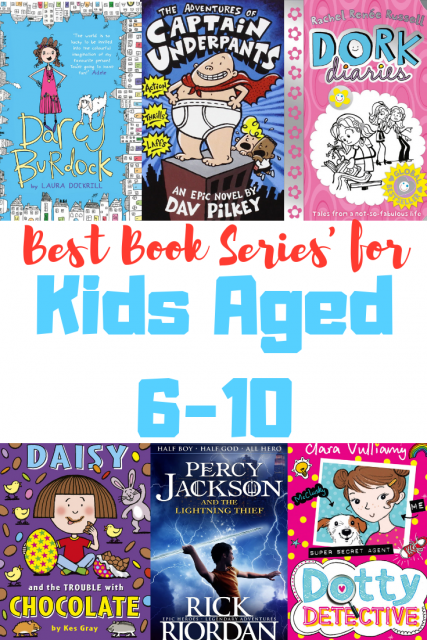 Best Book Series for Children Aged 6-8
Claude by Alex T Smith (the kids have found this is on TV now, as well, and they love it!!)
Captain Underpants by Dav Pilkey
Mr Majeika by Humphrey Carpenter
My Brother's Famous Bottom by Jeremy Strong
Horrid Henry by Francesca Simon
Dog Man by Dav Pilkey (My son's all-time favourite!)
Best Book Series for Children Aged 8-10
The Treehouse Books by Andy Griffiths
Darcey Burdock by Laura Dockrill
Dork Diaries by Rachel Renee Russell
How To Train Your Dragon by Cressida Cowell
The Shakespeare Stories Box Set (Includes 16 books) by Andrew Matthews
Dotty Detective by Clara Vulliamy
Diary of a Wimpy Kid by Jeff Kinney
And finally, this one is not actually a series, but it's an author that Boo loves and she has read a few of his books now, with another on the way this Christmas. It's David Baddiel's books. Boo started with Animalcolm which she read within a day or two as she could barely put it down. She has recently adored The Parent Agency and she has The Person Controller ready to read next. Books2Door have a boxset collection on offer at the moment.
I have split the lists into two age categories to give you a better idea of reading age and content. Of course books can be enjoyed at any age, and in fact my daughter often reads some in the 6-8 bracket whilst my son enjoys listening to some from the 8-10 list. You know your kids and how well they read and digest their books, I just thought it'd help to spilt them up a little.
What do you think of these suggestions? Do you see any that you think your children would enjoy? Are your kids fans of any of these already?
You might also enjoy my Gift Ideas for Tween Girls or pop over to my Amazon store for more bookish inspiration.
Disclosure: This is a collaborative post and contains affiliate links