Here we are again, at the end of another month and time for a blog progress report.
The month has, yet again, flown by. It's been super busy here, with lots of different projects taking place to keep me on my toes! Let me update you on all of the happenings and then talk you through the progress and plans.
This post contains affiliate links
In last month's blog progress report, I shared my plans for this month, so let's see how they have all shaped up…
My Blog Audit and Hosting
I mentioned last month that I would be having a blog audit, and this also then involved me switching my web hosting, email hosting and domain hosting.
This has been an ongoing project that has spread over the course of the full month. There have been several evening Zoom calls, as the person I am working with is based in the US, and there has been lots to do and learn.
I'm pleased that I set a fair bit of time aside for this one as it has taken a fair bit of time to do! Plugins have been deleted, new security measures and accounts have been set up, I've moved my shop fully over to Etsy as a result of this and I have learned so much.
Bring Back Paper Activities
I ran a Postcard Mailing this month which was very popular, more popular than I had expected, to be honest!
I have continued to share new content, I have managed to give a lovely papery freebie out to my subscribers and I have administrated the ever-growing Bring Back Paper Facebook group. It is such a lovely community over there, it does make me happy! If you like paper, books, happy mail, journals, stationery etc. come join in!
Product design
As I have mentioned, I moved my whole shop over to Etsy, which I hadn't planned to do before my blog audit. So that was a learning curve and a change! I have now set up JocelynLovesPaper over there.
It's taken up a fair bit of time, but I am happy to be all set and ready to go now. I have had a few sales already, which has been exciting!
I added posters to the shop and moved all of my product range over to digital only. I love the idea that people can access my products instantly, anywhere in the world, and they can print as many copies as they need.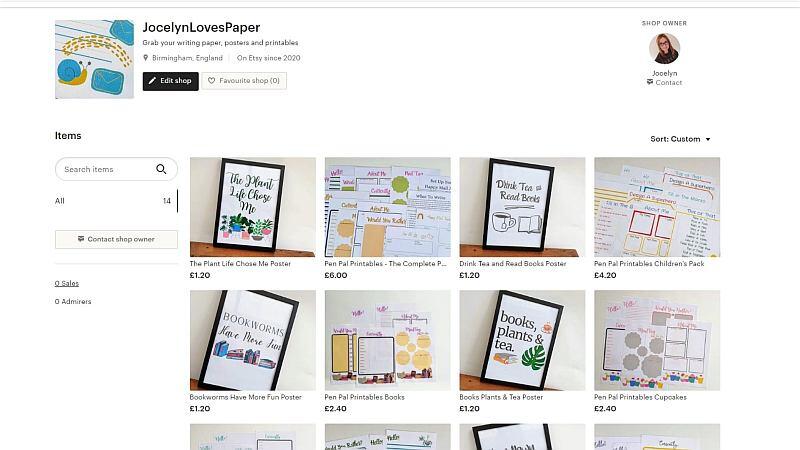 I had planned to add more printables to the shop, including a Christmas design, and that box has been ticked. I added the Christmas Pen Pal Fun Pack and the Winter Wonderland Pen Pal Fun Pack a couple of weeks ago.
I have now got a long, a very long, list of products that I would like to create and add to my shop. I hope to work on at least one new range every month going forward. I want more hours to give to this area, but it will just have to slot into everything else I do.
Email Marketing Development
I love this area of my job!
I shared last week how I doubled my email subscribers in 3 months, as this is an area I was keen to focus on and it's also something that I really enjoy.
I send out a Flodesk newsletter every Friday lunchtime (UK time) and it tends to include a mixture of the latest content, a little bit of news and chat, any new launches, and freebies every so often. It's about sharing anything I think could be of interest to my readers, as simple as that.
Launched Bring Back Paper Memberships
Last month I mentioned that I had another idea that I was keen to explore, but I wasn't sure whether I would be able to get around to doing anything with it.
Well, I have done it and I am so excited about it all! I launched Bring Back Paper memberships and so we are now all go!
I shared a closer look at the memberships last week, including a YouTube video sharing more. This is a huge new area for me to work on and something that has been buzzing around in my mind for some time.
Memberships are completely new to me and my business, so there has been a lot of research, planning and work involved.
This is a new avenue of work and creativity, as well as a new income stream. It gives me the opportunity to do more for those people who want it, it will stretch me in terms of the content that I will provide and it means I am now supplying Happy Mail packages monthly, meaning I get to buy and play with pretty stationery!
The Other Stuff
Well, there has been content! I aim to share at least 2 blog posts weekly, Mondays and Fridays, and occasionally there will be an extra one a week too.
I have then got a couple of new YouTube videos up this month, which I'm pleased about. I want to get this to weekly at some point, but with the other things I have been developing and launching, I am not quite there with this one yet. The plan is that once I have everything in place, I can focus my time and energy more on creating new content, on the blog, YouTube, memberships and social media.
The other area I was looking at this month was SEO. Well, this has been more about behind the scenes, off the page stuff, as I have been making those blog changes. Going forwards, I have plans to take an SEO course that I have my eye on and really get working on this.
Plans for Next Month
Next month, there are 3 key areas I want to focus on.
Firstly, my Bring Back Paper memberships. December will be the first month for these so I want to ensure that I get it right and my new members enjoy it. I am getting exclusive content ready for them and our very first activity, I am looking forward to it! I will also be putting happy mail packages together for those members who have chosen this option. I know I am going to enjoy doing that.
Secondly, product design. My head is full of ideas so I would like to keep working on these for the shop, my members and my newsletter subscribers. I really don't know how many I will manage to complete, I will work steadily through them and ensure they are just as I want them and then share.
Thirdly, content. Both on the blog and on YouTube. I have nothing written or filmed yet for December, so I have plenty to do. I intend to take the last couple of weeks off, while the kids are home, so I need to get this all prepared and scheduled in before then.
I would like to get started on that SEO course I mentioned too, but that might have to wait until January, we will see.
Then of course I will keep my newsletters going, run the Bring Back Paper activity and admin the Facebook group, and I'll continue to promote the blog, memberships and shop across social media. These things never stop!
And that's it for this month's report.
I do have to keep checking back with the plan that I shared back in August and all the ways that I wanted to grow this blog and business. I am impatient. I can see where I want to be, I can see what I want to create and deliver, I just need to remember that I have made progress and I can only do so much all in one go! I will get there, and I hope you are enjoying the direction that I am going in.
What do you think of the progress so far?
Disclosure: This post contains affiliate links