This post contains affiliate links
After giving this a go as last month's #BringBackPaper activity, I though we'd have a book readalong each month going forward. It's a very friendly online book club, open to everyone, so do come and readalong with us.
I really enjoyed disappearing into last month's book, and then emerging knowing that I could chat about it with fellow readers. There's something quite special about all reading the same book together and then forming our own thoughts ready to share with one another. And for those people joining in with us and not chatting about the book within the group, I knew that they were out there, reading the same words, and it was a good feeling knowing that we were all reading together. This being the case, I have chosen a new book for this month's book readalong, one that was very popular in the Bring Back Paper Facebook group last month so I thought it made sense to read this one next…
August Book Readalong
So onto August's book to readalong with and it's this, Little Fires Everywhere by Celest Ng.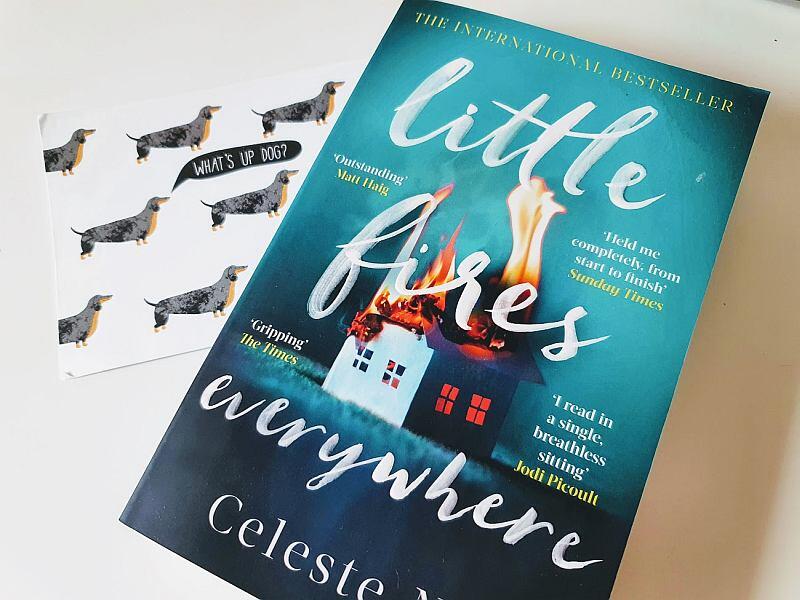 A little about this month's book readalong:
Everyone in Shaker Heights was talking about it that summer: how Isabelle, the last of the Richardson children, had finally gone around the bend and burned the house down.
In Shaker Heights, a placid, progressive suburb of Cleveland, everything is meticulously planned – from the layout of the winding roads, to the colours of the houses, to the successful lives its residents will go on to lead. And no one embodies this spirit more than Elena Richardson, whose guiding principle is playing by the rules.
Enter Mia Warren – an enigmatic artist and single mother- who arrives in this idyllic bubble with her teenage daughter Pearl, and a disregard for the status quo that threatens to upend this carefully ordered community. Suspicious of Mia and her motives, Elena is determined to uncover the secrets in Mia's past. But her obsession will come at unexpected and devastating costs.
I am looking forward to reading this one. I read Celeste Ng's Everything I Never Told You a couple of months ago and enjoyed it, so I have high hopes for this one.
The book readalong is really simple to join in with, you just need to get yourself a copy of the book and read it at some during August. Let us know that you're joining in by dropping by the Facebook group to chat about it, or tweet or Instagram your book with the hashtags #BringBackPaper #BookReadalong. If you're not on social media, then it matters not, you can join in and not tell the world what you're up to!
There will be a thread to talk about it in the Bring Back Paper group, where thoughts can be added, or simply a 'hi, I'm reading along!' message. It would be lovely to see lots of us all reading something together and chatting about it, a start to a Bring Back Paper book club.
Books I've Been Loving
In addition to enjoying last month's readalong book I wanted to share with you a few book recommendations from my recent book stack. These are the books that I loved and am recommending them to everyone!
To Kill a Mockingbird
'Shoot all the Bluejays you want, if you can hit 'em, but remember it's a sin to kill a Mockingbird.'
A lawyer's advice to his children as he defends the real mockingbird of Harper Lee's classic novel – a black man charged with the rape of a white girl. Through the young eyes of Scout and Jem Finch, Harper Lee explores with exuberant humour the irrationality of adult attitudes to race and class in the Deep South of the thirties. The conscience of a town steeped in prejudice, violence and hypocrisy is pricked by the stamina of one man's struggle for justice. But the weight of history will only tolerate so much.
To Kill a Mockingbird is a coming-of-age story, an anti-racist novel, a historical drama of the Great Depression and a sublime example of the Southern writing tradition.
Yes, I know this is a classic and many of you will have already read this one, but it was my first time reading Harper Lee's masterpiece and it won't be the last. I absolutely loved it, and Atticus Finch is now up there as one of my all-time favourite book characters.
If this is one that you've yet to read, then do it, read it. You won't regret it.
Take a Hint, Dani Brown
Danika Brown knows what she wants: professional success, academic renown and an occasional roll in the hay to relieve all that career-driven tension. But romance? Been there, done that, burned the T-shirt. So Dani asks the universe for the perfect friend-with-benefits . . .
When brooding security guard Zafir Ansari rescues her from a workplace fire drill gone wrong, it's an obvious sign: PhD student Dani and ex-rugby player Zaf are destined to sleep together. But before she can explain that fact, a video of the heroic rescue goes viral. Now half the internet is shipping #DrRugbae – and Zaf is begging Dani to play along.
Dani's plan is simple: fake a relationship in public, seduce Zaf behind the scenes. But grumpy Zaf is secretly a romantic – and he's determined to corrupt Dani's stone-cold realism. With every fake date and midnight meeting, Dani's easy lay becomes more complex than her thesis. Has her wish backfired?
Or is the universe waiting for her to take a hint?
This is the second book in this series about three sisters by Talia Hibbert. I really enjoyed the first one, too, Get a Life, Chloe Brown, but Dani's story managed to top that one for me. This is a book that I didn't want to put down, I loved Dani's story. It's funny, the characters are so real and it's feel-good. I should add a warning though, as the sex scenes and language are quite explicit in this one. I am already looking forward to the third book in this series, my pre-order has been placed!
The Flatshare
Tiffy and Leon share a flat
Tiffy and Leon share a bed
Tiffy and Leon have never met…
Tiffy Moore needs a cheap flat, and fast. Leon Twomey works nights and needs cash. Their friends think they're crazy, but it's the perfect solution: Leon occupies the one-bed flat while Tiffy's at work in the day, and she has the run of the place the rest of the time.
But with obsessive ex-boyfriends, demanding clients at work, wrongly imprisoned brothers and, of course, the fact that they still haven't met yet, they're about to discover that if you want the perfect home you need to throw the rulebook out the window…
This is a book that weaves together the lives of two people beautifully and has you falling in love with both of the main characters. It's an unusual premise and we switch from one character to the other in each chapter. It will make you laugh and you will really be rooting for these two. One that made me smile throughout.
Homegoing
Effia and Esi: two sisters with two very different destinies. One sold into slavery; one a slave trader's wife. The consequences of their fate reverberate through the generations that follow. Taking us from the Gold Coast of Africa to the cotton-picking plantations of Mississippi; from the missionary schools of Ghana to the dive bars of Harlem, spanning three continents and seven generations, Yaa Gyasi has written a miraculous novel – the intimate, gripping story of a brilliantly vivid cast of characters and through their lives the very story of America itself.
Epic in its canvas and intimate in its portraits, Homegoing is a searing and profound debut from a masterly new writer.
I picked this book up and then didn't want to put it down. It's quite unusually told, as every chapter shares a story about a new character, the next generation from the original two sisters that we meet at the beginning. Thus the book manages to span the centuries and you only have pages to get to know each individual character. Yet it works, it really works. Gyasi manages to convey so much about every character and the world that they are living in, in each and every chapter.
It's a book that I am so glad I have read and one that I can see myself reading again over the years.
These are the books that have managed to lodge themselves within me from recent weeks. The books that I want to tell the world about, so I will content myself with telling you folks! I hope that I have managed to provide you with a little inspiration if you're on the lookout for a few new reads.
If you are looking to read with us and join in with the #bringbackpaper readalong, we'd love to talk books with you, so go grab yourself a copy of Little Fires Everywhere and get reading! You are always very welcome in the Bring Back Paper Facebook group to come and chat about it (and all other papery things) and I will get a new book chat thread started there shortly ready for us to share our thoughts on this one.
Come read with us! What do you say, are you in?
Disclosure: This post contains affiliate links
Come join the Bring Back Paper Club! Subscribe to newsletters (don't worry, there will only be a couple a month at most!) including papery posts and Bring Back Paper activities.