Today I want to share a few super easy ways to pretty up your envelopes when sending snail mail. All you need are the envelopes and some washi tape and you can give some easy mail with washi tape a go.
As always with any posts like this, I will preface this with the fact that the key part of happy mail is the mail itself! If you then want to decorate your envelope, that is for your own fun and creativity and will just be a bonus for your pen pal. They want to hear from you, everything else is an extra treat.
Now, if you've read the blog before or watched the YouTube channel, you will know that I love washi tape!
It's just so colourful and fun and easy to use, I do have a fair bit of it.
You don't have to have loads of washi tape to try some easy mail art, a few rolls are more than enough, I just really like it!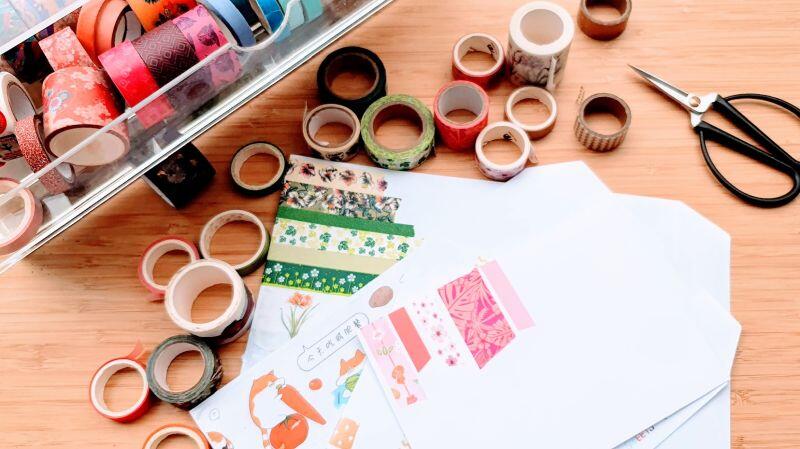 There are so many ways to use it for your envelopes, the possibilities are endless.
I shared this video last week with just a few ideas to get you started, and there are then so many more!
Washi Tape for Envelopes
Make a box shape with tape to write the address in
Give the whole envelope washi tape borders
Pop the same design of tape across the top and bottom of the envelope
Do washi tape stripes all the way across the envelope. Same tape or a mix of colours and patterns.
Rip or cut your tape for different effects. Cut it at different angles to create patterns
Use the same tape everywhere or change things up with different designs
Choose lots of different tapes with similar colours
There are so many possibilities, just play with your tape!
You can then go on to incorporate other papers, mail art with magazine cuttings, stamps, stickers and more to add more to your design if you want to add to the washi tape look.
You might then want to check out these simple mail art ideas for further inspiration and don't forget to check out the pen pal packs available in my Etsy store now, you can use them to write on and to decorate your envelopes!
Do you like to use washi tape for your happy mail?
If you're new to Bring Back Paper, you can find out more about it all here and you can join our Facebook group here.
If you love all that I do with #BringBackPaper then come support it and find out about Bring Back Paper Memberships and be sure to sign up to join my mailing list below, for all the latest news, updates, ideas and activities.