I love reading Karen's Let Kids Be Kids blog, and it was while I was there last week that I read all about the Elf on the Shelf tradition. Now, I must admit, this one had passed me by somewhere. I'd spotted the odd tweet, the odd reference to it, but not really explored it or looked into it. Karen changed that! I read her post, I looked over on Pinterest at the many thousands of Elf pins, and I knew that this was one tradition that we needed to start here at the Reading Residence. So I mooched about and ordered my elf and book set (I found Baby Republic and The Book Depository to be better priced than most, if you fancy getting involved, too, though any elf will do!), and then I started to get excited..
As I understand it, the elf 'arrives' here on 1st December, as Santa's eyes and ears in our home, we adopt and name him, and he then flies back to the North Pole each night to report on what we've been up to that day. So, each morning, he'll return and be in a different part of the house, for the children to find. I'm pondering all of the things that our elf could get up to, what we'll name him when he gets here, what Boo and Little Man will make of him – should be loads of fun!
And then I thought, surely this should be a blog hop?! The lovely Life With Munchers had the very same idea, so we've joined forces to bring you #ElfTakeover!
We've got a Pinterest board to gather ideas, we'll be over on Instagram, we've a Google+ community, just use the #ElfTakeover tag, and we'll have a weekly blog hop, a place to share our Elf antics 🙂
So to kick off, I think we need to introduce our elves, don't we? Use the #ElfTakeover tag from now on and we can all look out for it across social media, and the blog linky will open Tuesday 3rd December for elf introduction posts right here – so do come and say 'hi' and let us know how your elf is settling in. Then every Tuesday throughout December this linky will run, inviting you to share any adventures your elf has had in the past week – whether it be a series of photos, stories about how the family's got on with him, ingenious crafting and staging tips for the elf – whatever you want, just link them up and we'll take a look! We'll take it in turns to host, but pop by either blog and we'll be sure to point you in the right direction. We'll be having fun choosing a couple of our favourites from each week, too – Can.Not.Wait!
There are very few rules – linky opens Tuesday mornings throughout December and closes Friday of each week. Grab the badge below to add to your post, and do take time to read as many of the other blogs as you can – I know it's a busy time, so just as many as you can get round to.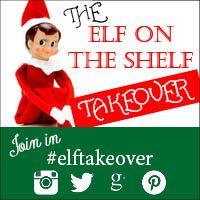 Looking forward to meeting those elves! Let #ElfTakeover commence….!