Some of you may remember that last year, myself and the lovely Life With Munchers ran a weekly linky during December called #ElfTakeover. Well, if you do recall, then all you need to know is that it will be back!
For those of you wondering what on earth I'm rambling on about, I'll explain a little more…
Elf Takeover is all about helping each other with Elf on the Shelf. It's a fun tradition, though sometimes we need a little inspiration from each other, as you need to keep it going for a few weeks! So we host the linky where you can share what your elf has been up to, and have a laugh at others' ideas.
What is Elf on the Shelf? The elf 'arrives' on 1st December, and is Santa's eyes and ears in our home. He first visited our home last year, so we then adopted and named him and the kids are eager to see him back here again this year. He spends his days here, seeing what's what, and then flies back to the North Pole each night to fill Santa in on what's been happening here. To be honest, I'm not keen on the idea of him telling tales and using him as a bit of a threat!, so for us it's more about having him here and moving him around, which Boo adored last year. So, each morning, when the kids wake up, he'll be back from the North Pole and have got himself into a different position. Sounds simple, but thinking up new places, bearing in mind he needs to be out of reach of the kids as if you touch him, he loses his magic, is challenging! He stays here until Christmas Eve, as he then goes back home with Santa.
If you'd like to share your elf's antics each week, here's the linky badge you'll need to get involved. It's just a bit of fun, and hopefully we'll be helping to inspire and keep each other going! We'll be pinning all posts to our #ElfTakeover Pinterest board, and every week, Mummy Muncher and I will each choose a favourite post from the previous week to highlight and tweet out.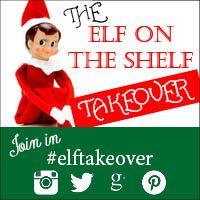 The first linky will be on Tuesday 2nd December, and I'll be hosting it right here. Life With Munchers and I will then take it in turns to host each Tuesday until 23rd December. You're welcome to share whatever you like, a series of photos, ideas, how the elf's faring in your home, an introduction to him/her, anything at all, as long as it's elf love. You can also use the hash tag over on Instagram to join in and share your elf's antics.
And if you like the sound of it, you've still time to get an elf!
Will you be home to an elf this year?