We are here, it is happening! Yes, December's arrived and so I'm guessing elves are now inhabiting homes all over the world! So for the next 4 Tuesdays, myself and Life With Munchers will be hosting the #Elftakeover blog linky.
Along with having a giggle together and sharing ideas, every post linking up will be pinned to our #ElfTakeover Pinterest board, and we'll be choosing our favourites each week to tweet out and highlight.
And so to our elf. Yes, Marty has returned, to much enthusiasm and excitement from Boo. Little Man's not really getting the magical concept and just wants to play with him, and to be honest, I'm very happy about that as he's been having worries and nightmares about various things lately (did you catch my The Problem With Santa Is… musings?), so I didn't want to add fears of elves to the list! For him, as with Boo really, it's just about finding him each morning, which is all I like it to be here. We don't do the reporting back to Santa bit, just the moving him into fun spots bits! It all adds to the excitement of the countdown!
Here's how he arrived, and was discovered yesterday morning….
Oh, bringing chocolates, and nestled amongst chocolate advent calendars made him immediately popular! Boo gasped when she saw he'd returned, having been hoping to see him since the first second she opened her eyes! Little Man simply wanted his chocolate! Though, he did actually point and say 'Marty' so maybe this little elf has made an impression after all.
Just over 3 more week's worth of poses to think about now….! I'm hoping you guys will inspire me! Come tell me about how your little elf arrived…
To join, in, grab the badge in my sidebar there, add your post to the linky and then go check out some of the others, comment and enjoy! Come on the elves…'it's beginning to look a lot like Christmas…' Oh, and if you don't have to time to blog and link weekly, or you simply don't blog but want to join in, just use the #ElfTakeover hash tag on Instagram 🙂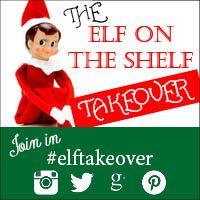 Linky opens Tuesdays at 6.30am until Thursdays at midnight.