Welcome to week 3 of #ElfTakeover! If you missed last week's, and everyone's link ups, you can find them here. My lovely co-host Life With Munchers and I have chosen our favourites from last week….
From Let Kids Be Kids
From Handbags to Changebags…
From 3 Kids and a Gluestick…
And from Mummy Pink Wellies…
Here are some of the things our Marty's been up to this week….
Shedding a little light..
Some noisy drumming…
This I thought was very risky, death-defying, and I'm quite sure he'd have had a head rush….
And then Boo absolutely loved that he drew himself alongside them…
So how's your week been with your little friends? To join in and share your own elfy happenings, just grab the badge in my sidebar there, link up below, and go check out what other elves have been up to…..

Linky opens at 6.30am Tuesdays and closes at midnight on Thursdays
And remember you can use the #ElfTakeover hash tag over on Instagram to share, and we're pinning over on the #ElfTakeover Pinterest board, too.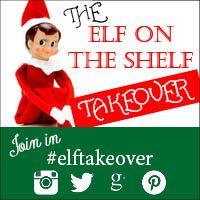 Happy elfing! Visit The Reading Residence's profile on Pinterest.