Have you heard of Fluffy Eggs? If you haven't, you are in for a treat today as I share my easy eggs meal, a fluffy eggs recipe! I mean, I realise that most people haven't even heard of fluffy eggs, and I appreciate that few people are actually going to go out looking for these, but these can't be beaten!
This is a super-simple fluffy eggs recipe that the Husband and I discovered recently and we are now a little bit addicted to making it and eating it. Fair warning here, once you give this a try, you will struggle to go back to other egg recipes again.
Fluffy eggs is a blend of scrambled eggs, poached eggs and with some cheese thrown in. It can't be just me that things that most meals are improved by throwing cheese in, can it?
These are perfect for breakfast, brunch, lunch, snacks and dinner – yes, I did tell you we were addicted.
It doesn't take long to prepare at all, and it uses ingredients that you're likely to always have in the fridge, making it a handy go-to supper. If you like eggs and cheese, then you really do need to read on…
Now full disclosure, this is going to take you a little longer to prepare than your straightforward scrambled eggs, but it is simple to do and completely fool-proof, so stick with it, this will be an egg recipe that you will return to again and again.
Fluffy Eggs Ingredients
4 eggs
4 slices of bread
A handful of grated cheese of your choice – we use Cheddar cheese
Salt & Pepper to season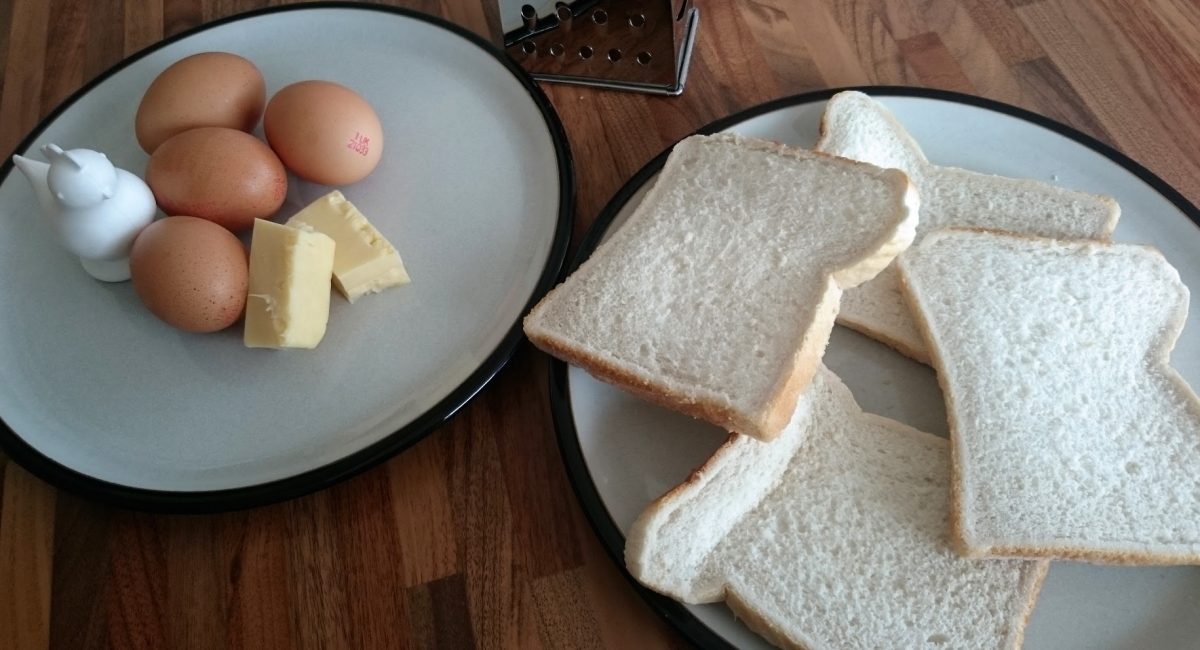 Fluffy Eggs Recipe
Preheat your oven to 190° C/Gas Mark 5.
Crack and separate the eggs, keeping the complete yolks in one bowl and the whites all together in another.
Grate around a handful of cheese.
Lightly toast your bread and place the slices onto a baking tray.
Whisk your egg whites into stiff peaks.
Grab a spoon and spread around 3/4 of your egg whites mixture onto your 4 slices of lightly toasted bread.
Make the egg whites mixture into wells, and place your egg yolks inside the well, one in each of the four.
Season your yolk with salt and pepper, if required.
Cover over the yolk using the remainder of the egg whites mixture.
Sprinkle the grated cheese over the top and then pop into the preheated oven for 10 minutes, a little longer if you're not keen on runny yolks.
You now have to be patient and wait for those fluffy eggs and cheese to cook and crisp up nicely for you.
Ten minutes later, you will have….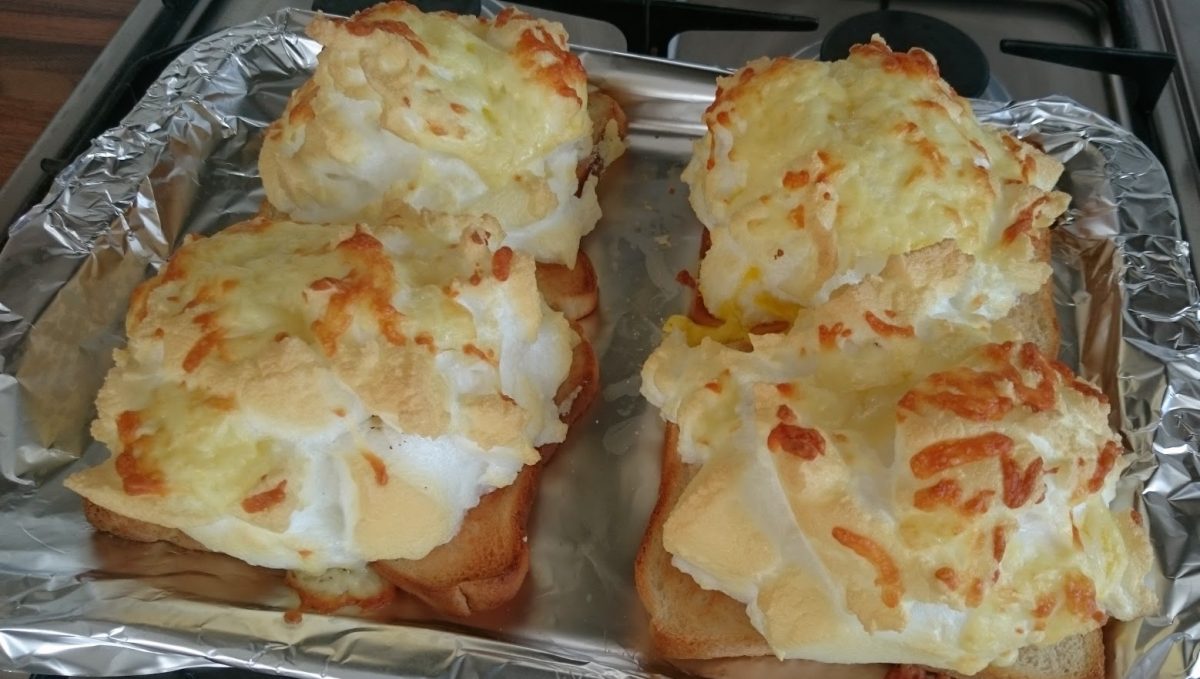 Done!
Serve them up straight away, especially if you want those yolks to ooze and run everywhere. Surely we all do?
To.Die.For. These are so ridiculously easy to make and absolutely delicious.
Since first discovering these fluffy eggs we have made and eaten them countless times, and we never tire of them. They still top our list as our favourite eggs recipe and are just perfect for a quick, relatively healthy meal (especially if you drop the cheese), that feels like a treat.
Try them and do let me know what you think!
And if you're like me and only ever want very easy, speedy and delicious recipes, do check out my White Chocolate Cheesecake Recipe and Warm Three-Cheese-Stuffed Bread.