Are you in the mood to send some post out today, but are all up to date with your pen pals, or perhaps don't actually have a pen pal? No worries at all, I have you covered, here are some ideas for fun things to mail today, take your pick!
Sometimes, I am keen to get creative, to send some post, to brighten someone's day. But my letter rack is all clear and I am up to date with writing to my pals. That's when I turn to these ideas, so I can still enjoy popping to the post-box that day.
A Postcard
Now, this one can go out to absolutely anyone, can't it?
A friend, family, or if you can't think of anyone to post to, go and join Postcrossing now.
If you've not heard of Postcrossing or are unsure about how it works, I shared about it and so many of the Bring Back Paper community love this site.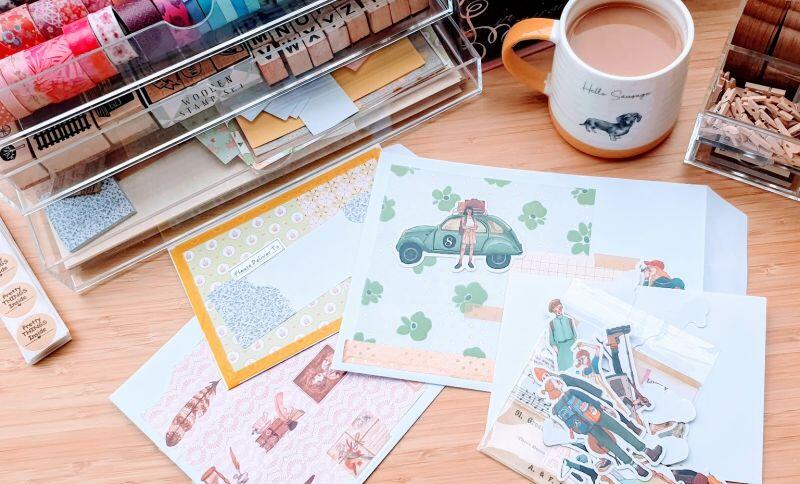 A Care Package
Take a moment to think about your family and friends.
Is anyone in need of cheering up? Or perhaps you've seen the perfect thing for them and would love to share it with them? Send a care package!
It's lovely for people to know that you're thinking of them, and you can include whatever you like in this. Perhaps a magazine, some treats, a note, whatever you want!
A Pre-Loved Book
Have you read something you enjoyed recently? Pass it on!
This is part of the inspiration behind the book swap that we regularly run here with #BringBackPaper.
When you love a book, it's great to pass it on to someone and share the love.
Grab your recent read and pop it in the post to make someone smile.
A Surprise Extra
Circling back round to those pen pals, just because it's not your turn to write, it doesn't mean you can't send them a surprise extra.
Perhaps a little postcard from a recent trip out, or a similar memento.
A Notecard
Have something to share? Have something you'd like to tell someone? Haven't chatted with a loved one lately?
Send a notecard!
Anyone would appreciate this turning up in the post, so take a moment and think of someone who'd love this.
Mail Me!
My post-box is always open!
I share incoming mail over on my YouTube channel regularly, so if you feel like sending something through, thanks in advance!
You can find out how to mail me here.
Are you ready to send some fun mail now?
We all know that happy mail is often as 'happy' for the sender as it is for the recipient, so go cheer your day now and send some fun out!
If you're new to Bring Back Paper, you can find out more about it all here. You can join our Facebook group here and you can sign up to join my mailing list below, for all the latest news, updates, ideas and activities.