Yes, our little Herbie, our miniature dachshund, is now 8 months old. He's been with us for six months now and that has flown by, so I thought it was about time I shared a puppy update.
How's Herbie doing?
Herbie has come such a long way since he arrived here at just two months old. When I think back on all that he has learned to do and how much he has changed and grown, he has done so well.
Herbie came everywhere with me, or someone was with him, for the first few months of his life. This helped to build his trust in us and his confidence and helped with his socialisation and although it was challenging at times, it was worth it. He is a very confident pup and is comfortable alone now, with no signs of any separation issues. We started to leave him over the summer holidays and he's fine being left alone now and tends to spend his time napping or watching the world go by from his little perch at the window. He has the run of the house downstairs and we've not returned to any damage, issues or toilet accidents – so far. As he is still young, we haven't left him for long yet, but he regularly copes well being alone for a couple of hours. I don't envision many times when he will be left for much longer than this anyway.
I mentioned 'his little perch' there, and that's on the arm of the sofa. A few weeks ago he mastered the art of jumping up onto the sofas and there's been no stopping him since. I swear he's part mountain goat! He runs up the stairs, only when we allow him, but we don't let him come down them and he's never attempted it. Coming down the stairs is not great for dachshunds backs so we will continue to prevent this.
Herbie chews and destroys all of his toys, and blankets and beds. He's very destructive and loves to chew. But, he only ever chews his own things, he has never chewed a single thing that isn't his, he's a clever pup.
He's been house trained for quite some time now, only a day of very heavy rain could cause us the odd accident. Herbie hates the rain, which means that when I do need him to go out there I have to stand with him, and he just looks at me full of sadness in his eyes and cries. It's not easy! That said, he still goes to the door to go out and the vast majority of times he will go out or hold on until the rain slows down. He's very good.
Herbie sleeps in a bed in our room, which was always the plan. We moved him out of the box he was sleeping in a couple of months ago so he does now have the freedom to walk around in the night. He has the odd bad night when he is restless, but as long as he's warm and snuggly, he tends to sleep contentedly there all night. It is then the kids that wake him, as I suspect he'd sleep in every day if given the choice. He normally starts his sleep at around 7-8pm on one of us on the sofa downstairs before we move him up to bed when we go.
Herbie's happy going to the vets so gets regular check ups. His weight is starting to stabilise so I doubt he'll get much bigger now. He was 6.1kg at his last vet visit. The breed standard for a miniature dachshund is around 4.5kg so he's quite big for a mini.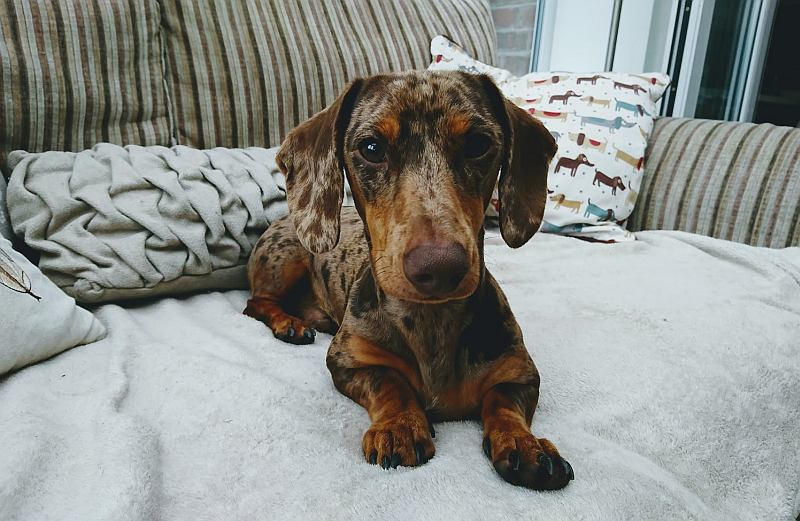 Herbie loves
Herbie loves getting out and about. He is happy to meet other dogs and is pretty confident around them. Now that the weather is colder he has a coat that he's happy to wear. As it's wetter he tends to come home with a very dirty tummy – he's so low to the ground! He's excited going out on any adventure, whether it's the vets, the shops, a National Trust or the park, but the park is definitely his favourite outing.
Herbie loves visiting his grandparents' houses. He cries with excitement as soon as we pull onto their drives and zooms in as though he owns the places! He's stayed at my mum's house a couple of times and is quite happy there. He's spoilt rotten, of course.
Herbie loves it when Boo and Little Man are around. He is used to our quiet week days, as he relaxes, plays and goes for walks, but he definitely prefers the weekends and evenings. He likes the house being full of his favourite people and he enjoys getting involved with whatever the kids are up to. That picture up there was his addition to their blanket den, as he just had to be included.
Herbie loves playing with Higgins every week when she visits with my sister in law. Higgins is a miniature schnauzer and they get on very well together. They were a similar size when they first met but she's now quite a bit taller than Herbie. She's a few weeks younger than him so there's a lot of running around and chaos when the two pups get together.



Herbie loves tuna, cheese, salmon, eggs, beef, chicken, cottage cheese and mashed potato. We struggle to eat those without having to pop some in his bowl!
Herbie loves cuddly mornings. The kids adore Herbie and rush to cuddle him every morning as soon as they wake up. He's just as happy to see them, he loves this part of his day.  When the kids get up, he's allowed onto our bed when they come in, and he definitely knows that rule! We scoop him up and he jumps all over them excitedly and then tunnels down into our bed and snuggles in. He's only ever there for a few minutes before we get up and take him outside, and he never seems to want to get up! He tends to pop straight into his crate downstairs after he's been out in the morning for another snooze.
Life with Herbie is good. Our family feels right with Herbie in it. He makes my children so very happy. And of course he makes the Husband and I happy, too. I think Herbie's got a pretty good life here, he certainly seems to be thriving and happy.
You can follow Herbie's antics over on my Instagram account as he features in my Instastories daily.