How can this be? Our little Herbie is already 1! Today our pup is a one year old and I cannot believe how quickly that time has flown.
This time last year we were just mulling over the idea of getting a dog again. Boo was very keen, Little Man was more unsure. But, he did know that if we were having a dog, he wanted a sausage dog! The Husband and I were just running through everything, checking that we were ready to do this again. We knew the realities of having a dog, we knew that it could be hard. We also knew how wonderful being a dog owner is, and of course, you know that we decided to go for it. Little did we know that Herbie had just come into the world!
I reached out to a few breeders through the Kennel Club website and as soon as Tammy and I started emailing each other I felt comfortable that we had found our puppy's breeder. We went over to visit the litter and parents and choose our puppy when Herbie was just four weeks old. We were originally looking for a Black & Tan miniature dachshund, but meeting Herbie convinced us that a Chocolate Dapple was the way to go. We visited him again at six weeks old and then picked him up and brought him home when he was eight weeks old.
It was then a whirlwind of training, fun and puppy chaos. Herbie was not left alone until he was nearly seven months old so we spent a lot of time together and he came with me on every school run until the summer holidays last year. He was very popular at the school gate! I shared our puppy days journey here, and of course he continues to learn more and more each day.
So much has changed. Herbie is happy to be left alone now, though as I work from home, he's not left much. He's fully toilet trained, he sleeps through the night (unless he gets cold – see later point!), we can trust him around the house as he doesn't chew or touch anything that's not his and he doesn't even bother stealing socks off radiators any more. He is a content little dog, roaming around and napping during the day when I'm working, and then he loves it when we're all home and he can play with the kids or jump all over them.
Herbie loves going out, absolutely anywhere! He enjoys his walks, he's content in the car, he loves visiting people's houses and is happy strolling around the shops. He's yet to experience the beach as we live in the Midlands, but maybe this year we'll take a trip to the seaside and see what he makes of it.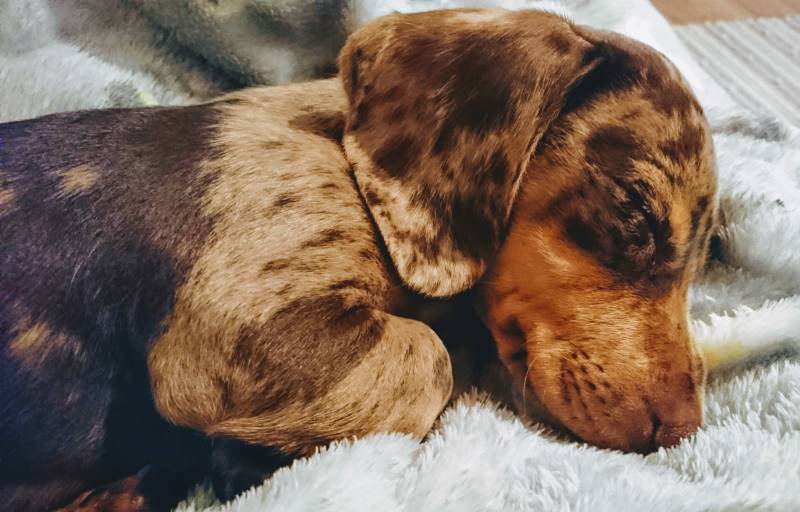 Herbie enjoys chewing. He destroys most toys in minutes, an hour at the very most. Soft toys are probably his favourites, but they are also the ones that don't stand a chance against his teeth. I get him them from time to time, in the knowledge that I will soon be picking up stuffing and mess from all over the house. But Herbie will have enjoyed it! We have found a few toys that he can't tear apart, and he loves getting those out to play with.
Herbie adores cuddles. If I sit down, he'll find my lap within seconds! He likes to be warm and sleeps under a big pile of blankets at night. And then cries if the blankets come off during the night!
Herbie is fully grown now, and weighs in at 6.2kg, which is actually quite big for a miniature dachshund. Don't be fooled by his diminutive size, though, this dog is mighty! He is confident, he is brave, he is friendly and we adore him.
We have bought Herbie a few gifts for his first birthday. He has some treats, toys and a dog birthday cake, the latter at the kids' insistence. He clearly won't have a clue that it's his birthday, but the kids are so excited about it, they'll enjoy making a fuss of him. They have even made him cards!!
One year already. Our pup is growing up. Life with Herbie is just better. It is that simple. He makes us smile every day, and we look forward to many more years with him.
You might enjoy Is A Miniature Dachshund For You? and The Truth About Life With A Puppy.