Wouldn't it be lovely to send and receive happy mail? Wouldn't it be fun to gather all of your pretty stationery supplies together and settle down with a cup of tea to pen a letter? Wouldn't it be great to take up a new hobby, one that relaxes you and makes you smile? You're nodding along, aren't you? Then read on as this post is for you, because today I want to help you to see how to start to pen pal.
I write about pen pals a lot here. Happy mail is an important part of my life and I know hundreds of others who would say the same. Many of them hang out with me in our #bringbackpaper Facebook group and many of them email me personally to tell me what having pen pals means to them.
Pen pals matter. Pen pals are real pals. This is why #bringbackpaper means so much to me.
Whilst I know plenty of snail mailers, most of my friends in real life are not happy mailers. It seems that I'm moving in circles that are quite niche. But putting pen to paper is such a wonderful hobby, that this seems wrong. Which is why I'm not just moving in these circles, I am also making those circles and doing all I can to expand and enlarge those circles.
Happy mail matters, and if you're not convinced, read these compelling reasons to pen pal. Which is the point of today's post, as I know this will be completely new, out of your comfort zone, stuff for many of you. But I want to help you to take that first step and start your pen pal journey.

How to start with happy mail
A pen pal relationship is like a real life relationship, but with time to think, reflect and react. You slowly get to know one another, to find common ground, to learn about your different worlds, to make one another smile, to share in each other's woes.
The back and forth of your letters necessarily slows this down and builds more anticipation. The slow nature of happy mail is a huge part of its appeal.
Writing letters gives you leave to get creative, though please don't get hung up on this if this isn't your thing.
Pen pals want to hear from you first and foremost. They want to hear your news and pretty envelopes are just the cherries on top. And you know I have you covered there anyway, here are easy mail art ideas and envelope art for the unartistic, as I absolutely fall into this category.
Sending snail mail is me time, it is slow down time, it is surround yourself with colourful and beautiful stationery time.
Tempted to dip your toe into the happy mail world? Itching to have a go but are still unsure, perhaps a little scared?
Ask yourself now, what's putting you off starting to pen pal?
Unsure you have enough time?
This is one of those 'you won't know unless you try' situations. Give it a go and find out.
If it helps, break it down. Most pen pals will probably write around once a month, some write more, some less, the pace is up to you. So say you just start with one pen pal, that's reading and writing one letter a month.
We're probably talking half an hour at the most a month. You have that time.
Knowing what to write?
I have a brilliant (even though I do say so myself) pen pal pack available to buy right here right now that will ensure you've got all you need to get going. It includes writing paper, fun templates to use from 'about me' sheets to mail tags and check lists of things to write about.
If you have it or are looking for something a little smaller, then the Pen Pal Fun Packs might be for you.
You can do this, you have got this.
Not having anything to say?
Everyone has something to say. If 2020 has taught us anything, it's that even in months of barely leaving our homes, we still have things to say. What we've read, what we've watched, games we've enjoyed, events we normally love, our pets' antics, our growing houseplant collection.
We all walk our own paths, we are all interesting just by being ourselves.
Not knowing who to write to?
You can check out where to find pen pals here, and I'd suggest you join our wonderful and welcoming Bring Back Paper Facebook group and ask for pen pals there too, you're always welcome, or lookout for pen pal requests.
I do also run pen pal sign ups from time to time, so sign up for my newsletter to ensure you don't miss those.
Are you now keen to do this? Are you ready to pen pal? Yes!! If you want to get a start on this, you could get The Pen Pal Pack here and pop a pen pal request in the Bring Back Paper Facebook group and you could be writing to a new friend within ten minutes, hooray!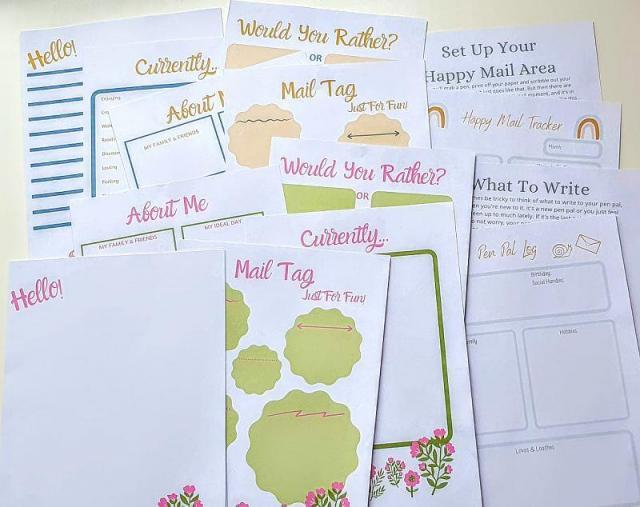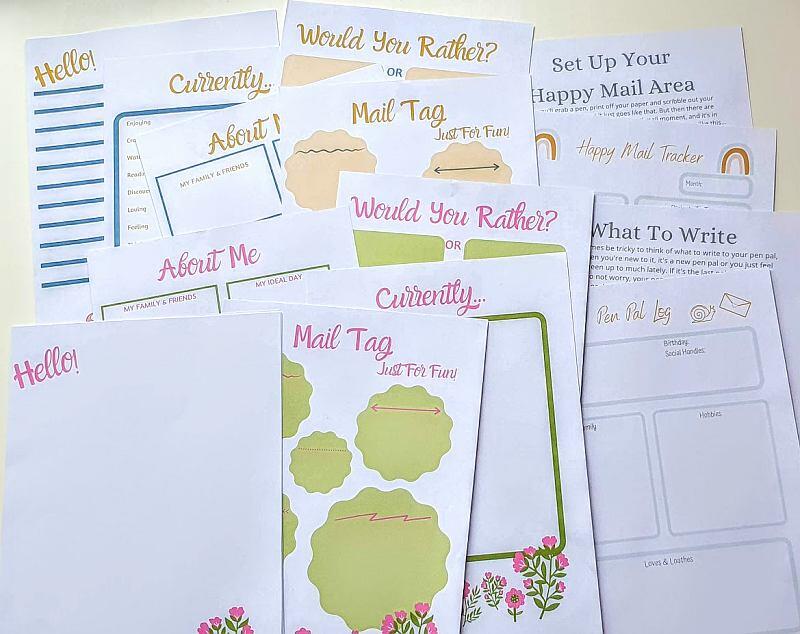 OK, what else do you need from me? What can I do to make this happen for you? I'm asking, please tell me, I want to help. Comment below or email me privately, we will get you that first pen pal, don't worry. I'm with you all the way!
If you're new to Bring Back Paper, you can find out more about it all here. You can join our Facebook group here and you can sign up to join my mailing list below, for all the latest news, updates, ideas and activities.