I do enjoy #BringBackPaper. It means that I get to indulge my love of paper here, but even more than that, I'm amazed by how it connects people. It seems that there a lot of people out there who also like their paper, be it stationery, books, colouring, scrap-booking, or as I'm going to focus on today, happy mail and mail tag ideas. It's definitely coming back, and for those of you yearning to put pen to paper again and keep in touch the old-fashioned way, do pop by here regularly as I do run swaps and pen pal pairings from time to time.
So today I'm thinking about snail mail, and in particular, mail tags. Do you know what a mail tag is? It's a lovely idea which I believe originated from Bianca Jagoe, and is a simple and enjoyable way to get to know one another. You write a few questions or prompts down for your pen pal to respond to, and then they reply with the answers along with a mail tag of their own if they choose to.
If you write letters, they are a really fun way of getting to know one another, and just opening up about different things through your correspondence. They are also a quirky and nice little addition and insert to a letter. Alternatively, if you've little time to send a whole letter, a brief note and a mail tag is a nice way to stay in touch.
A mail tag can be typed, stamped, written, whatever! You can add it on a bit of extra paper, use a postcard or gift tag, or you can get a bit crafty and use pretty paper and card, bright colours, washi tape, stampers and whatever else you have in your stash. A lot of the fun is in the creating, so grab yourself some papery supplies and get busy.
This post contains affiliate links. This means that if you click through and buy from one of the links, I will earn a small commission, at no cost to you. Thank you.
Mail Tag Ideas
I have a fair few things to choose from in my stationery stash. I seem to accrue more stuff every month! When I am writing to pen pals I tend to surround myself with various stationery bits anyway so that I can see where the mood takes me.
(links to Amazon store products all included here for you) I will always have a selection of washi tape, colourful fineliner pens and gel pens. You need all the colour! When I am in the mood for really elevating my happy mail, I also throw in this beauty, as this really makes those mail tags look special. When you're a snail mailer, this tends to be an ultimate addition to your collection, I adore mine!
Wax Seal Stamp Kit – Click To Buy
Armed with supplies, you can design a few different tags, and make use of all of those scraps of paper and card that you might have left over from other paper crafts. Once you have a pretty little tag ready, you just need a few questions and prompts…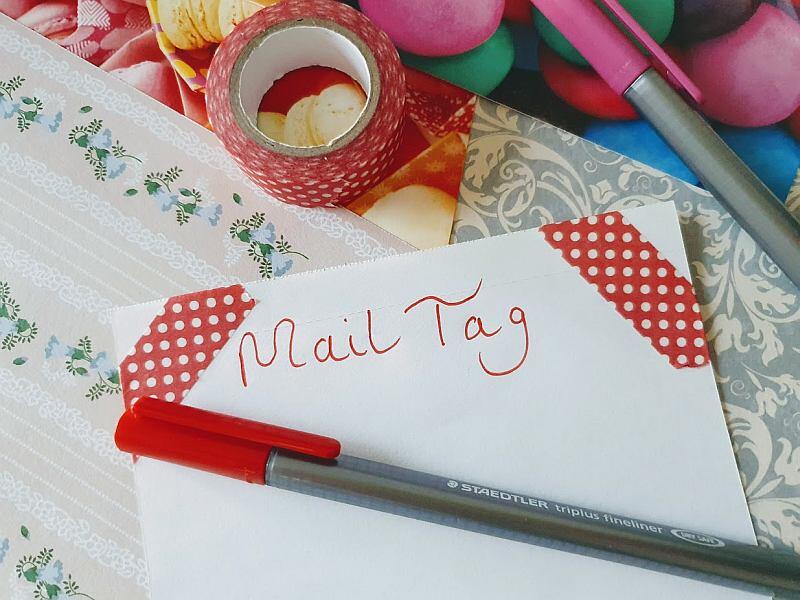 Here are a few ideas of what you might try, around a few different themes, though of course they can be completely random, too:
Childhood: What did you want to grow up to be? Favourite toy? Favourite childhood place? Happiest childhood memory?
Books: What are you reading now? Who is your favourite author? Top 3 books? Best book you've read this year?
Hopes and Dreams: What would you do with a lottery win? What would your dream day out be? If you could have 3 wishes, what would they be?
Yum: Favourite dessert? Savoury or sweet? Perfect date night meal? Favourite type of food?
Around the World: Favourite place you've visited? Dream holiday destination? If you could live anywhere in the world…
Films: Favourite genre? Last film you saw at the cinema? Favourite actor? If you could watch a film right now, it'd be…
Makes Me Smile: Favourite flower? Happiest when? A film that makes you smile? Favourite season? Songs to singalong to?
TV: What do you look forward to watching each week at the moment? All-time favourite shows? Boxset/series recommendations? Favourite TV programme to snuggle down to?
Hobbies: What do you do to relax? Favourite sport? How do you get creative? Paper Books or Kindle?
Home: Which is your favourite room in your home and why? How long have you lived there? Gardening: a chore or a pleasure? Favourite item in your home?

So you see, a mail tag is all about curiosity and getting to know people better. Ask whatever you want, and make the tag as colourful and as pretty as you fancy. Enjoy!
What do you think? Do you use mail tags when you write?
If you are a happy mail fan, then don't miss out on all things #bringbackpaper. Read the post to find out more and do pop and join our Bring Back Paper Facebook group. You are going to find a warm welcome for you in our wonderful group of like-minded people, and join my mailing list below. Look forward to sharing all things paper with you!
If you're new to Bring Back Paper, you can find out more about it all here. You can join our Facebook group here and you can sign up to join my mailing list below, for all the latest news, updates, ideas and activities.
Disclosure: this post contains affiliate links