I had been keeping a secret from the kids, for quite some time. We had been invited to Marvel Universe LIVE! and I kept it from them. I knew that excitement levels would be way too high if I told them and I wanted to see their little faces when I picked them up from school last week and told them that we were going out. And my, oh my, it was worth keeping it a secret – they were sooooo happy!
We received free tickets to this event
We are all big Marvel fans in our house. The Husband books a day off work for pretty much every Marvel film release so that the two of us can go to the cinema whilst the kids are at school. We always like to watch the films before the kids do to check that we feel they will be okay to watch them, and so far I think that they have watched them all now (with the exception of Captain Marvel as Little Man is unsure about the aliens in it and thinks they might be scary – I want him to watch it just for the Flerken!). As such, we were all very excited at the idea of our favourite characters in a live action show.
We were lucky enough to be invited along to meet Spiderman before the show, and as he's one of Little Man's all-time favourites that went down well!
The Marvel Universe LIVE! show
The show opens with Dr Strange and characters from Guardians of the Galaxy setting the story-line up for us and of course I won't share any spillovers on that one. Suffice to say that the whole show revolves around this plot-line and it brings in most of your favourite Marvel characters.
The show has a huge screen as a backdrop that changes in every scene and then a large stage for the characters to act, fight and show off their skills on. The action is non-stop, with plenty of typical witty Marvel dialogue to keep you smiling. It is one long brilliantly choreographed stunt show, just as you'd expect from these superheroes and a few evil villains drop by to keep things interesting. Loki is on form and up to his old tricks, but is he a match for the Avengers and the Guardians of the Galaxy?!
The show runs for around forty-five minutes, with an intermission, and then another forty-five minutes.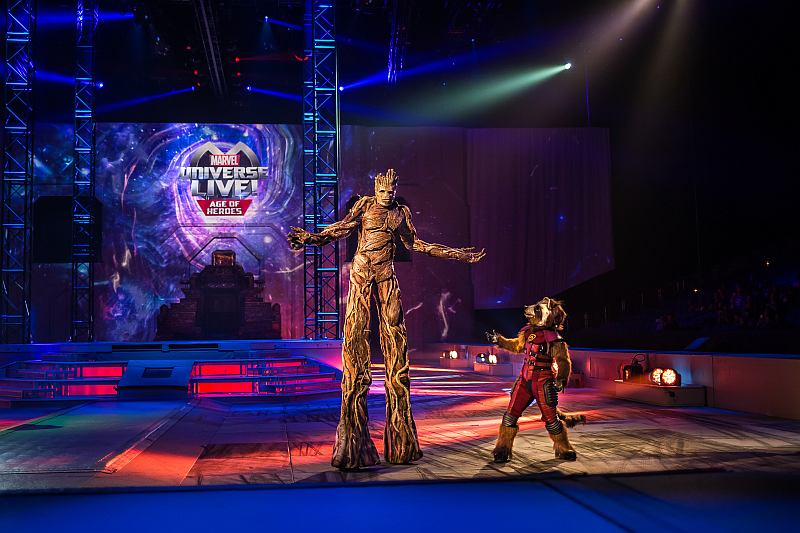 Our thoughts
As soon as the show ended, Little Man turned to me and said 'can we come again next year?'. Boo was nodding eagerly and muttering about how completely amazing it was, so yes, it's fair to say that they liked it!
Marvel Universe LIVE! is so cleverly put together. It is packed with stunts, fighting and superheros swinging all over the place, there is constantly something to watch and keep you interested. The actors portray their characters well and the plot that keeps the whole thing moving is easy enough for children to follow and interesting enough to keep us adults entertained.
Little Man was really tired on the evening that we went, but he did not take his eyes off that stage or flag for a second, he was completely captivated. I loved seeing his happy little face throughout the whole show, he was beaming.
Marvel Universe LIVE! was a hit with our family, would it be with yours?
You can find out more about the tour and purchase tickets here.
Disclosure: We received free tickets to this event
Images courtesy of Marvel Universe LIVE!