When Mrs Wordsmith got in touch with me, I did not hesitate to agree to find out more about them and give it a go, so today we will share our Mrs Wordsmith review.
It's no secret that I am very passionate about literacy here and am always encouraging the kids with their reading, writing and storytelling, so this seemed to be absolutely perfect for us. And as I like to think of you, there is also the chance for one of you to win a Mrs Wordsmith subscription, so do read on…
Mrs Wordsmith was created by a UK mum who wanted to help her children fall in love with words.
I can't help but feel that she and I would get on well. Boo has been working on her story-telling and 'wow words' recently at school, so Mrs Wordsmith's arrival in our home has been perfectly timed.
How​ Mrs Wordsmith ​Works
Mrs Wordsmith's machine learning team and Cambridge University Professor Ted Briscoe have mined the English language and identified the 10,000 most important words to help children succeed at school. These are the words children will find in books, magazines, the Internet and reference materials.
These words have been brought to life through hilarious illustrations by Craig Kellman, the award-winning Hollywood artist behind kids' movies like Madagascar and Hotel Transylvania, because according to neuroscientific theory the mind remembers humour best.
The programme includes 6 workbooks, 6 packs of word cards, and 6 packs of illustrated inserts.
It covers 6 different storytelling themes, including character, weather, taste and smell, actions, emotions, and setting.
If the subscription pack option is chosen, kids receive new materials each month (1 workbook, 1 pack of word cards, and 1 set of illustrated word inserts)
It does work with the national curriculum, is best for 7-12 year olds and is also suitable for children with dyslexia. Mrs Wordsmith is available as a six month subscription, or the full six months can be purchased as a one off gift pack.
In order to share this with you, we received the full Mrs Wordsmith programme in a one-off gift pack. It's a big box, jam-packed with words and illustrations, as pictured above.
Mrs Wordsmith centres around its folder which contains all of the words, broken down into the 6 storytelling themes with dividers.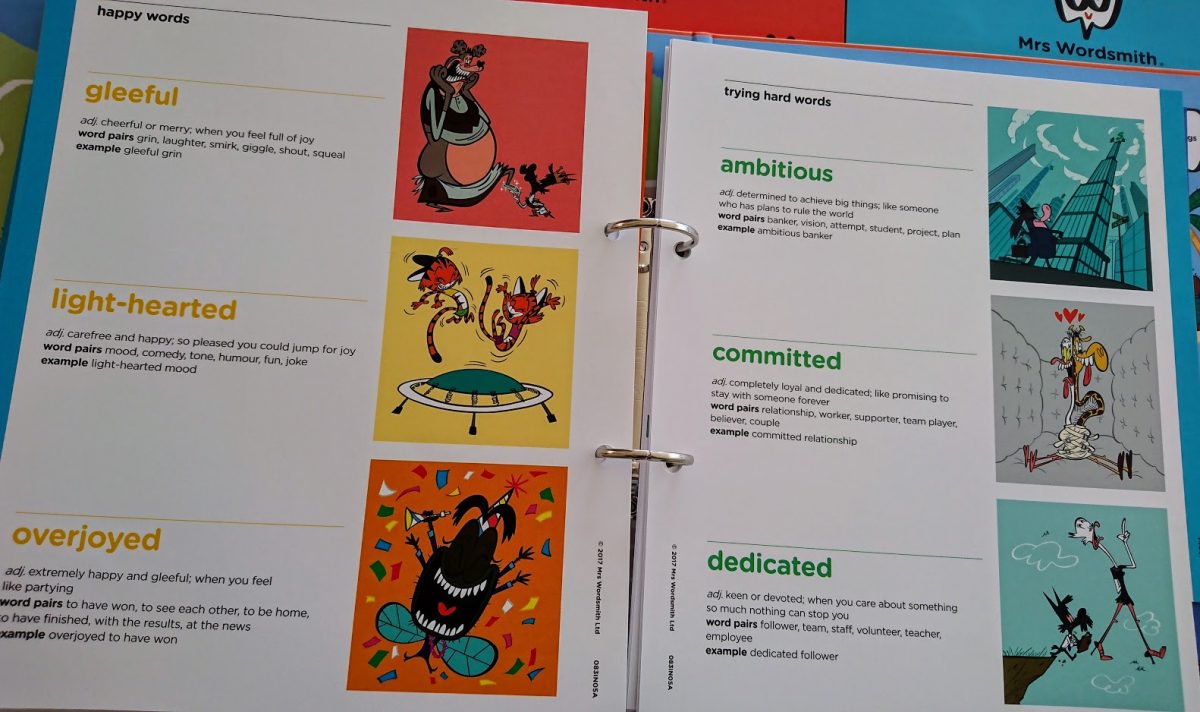 As you can see, words are illustrated to help to bring them to life, and then descriptions are given along with word pairs and examples.
This isn't a case of just learning words as spellings by rote, but aims to provide context around each word so that children can use them confidently in their work and understand them whilst they're reading.
Reading is not enough on its own in learning these words and the self-directed learning drives more engagement.
They are words that are likely to crop up in books, so knowing them should allow children to read more fluently, which is bound to make it a more enjoyable experience.
There are then 6 workbooks containing each word to complete.
The message that comes through with these activities is very much 'little and often'. Boo will not be learning all of these words this month!
I can see how the subscription option works well to slow the pace in that way.
It's recommended that just a page or two are completed each day, so children are only absorbing 1-2 new words daily.
These worksheets all come ready hole-punched so they can then be slotted into the ring-binder. Alternatively, they could be popped up on the wall or fridge to act as handy reminders.
There are also corresponding cards which are designed for ease of carrying around with you, and work well as fast prompts.
I think that once Boo has worked her way through these and is comfortable with the new vocabulary, we will use these in the form of a game as story prompts.
Mrs Wordsmith Review
Mrs Wordsmith is like nothing else that I have seen before. It's a way of bringing vocabulary to life in a fun and achievable way.
I will hold my hands up and say that this is the type of product that is going to appeal to me as a bookworm and a blogger, reading and writing play a huge part in my life. So yes, I wanted to like Mrs Wordsmith, I wanted it to be interesting for Boo. And fortunately, it has not disappointed.
The illustrations throughout the packs are bright and colourful, and often funny, so both kids have taken to it straight away.
It's a game to them, which is just how it should be, and Boo is enjoying working her way through it.
It needs to be used, talked about and played with to ensure it's really engaged with.
I like to know the words that Boo is working on, as then we can chat about them, put them into sentences and look for them when we read.
It's becoming a daily challenge to see whether we can both use the latest word in conversation that day which means that I'm having fun with it, let alone Boo!
Whilst the worksheets will obviously be completed, I can also see that we'll be able to keep this for the time that Little Man is ready to play with it. And I do think it's key that he does see it as something to 'play' with.
This is not extra homework, this is an interesting programme with perfectly manageable daily tasks.
Boo's enjoying it and I am already seeing the improvements in her vocabulary so I'll be interested to see whether it starts to filter into her written work at school soon. We are Mrs Wordsmith fans!
If this has tempted you to get this for your children, then I do have a discount code for you – just type ReadingResidence in the coupon code box on the website and get your first month free!
Competition Time!
Would you like to win a six month subscription to Mrs Wordsmith? Of course you would! Enter using the rafflecopter below now. The competition closes at 12 am 30th December 2017 and is open to UK entrants only. Good luck!
What do you like about Mrs Wordsmith?
Disclosure: I received this product FOC for the purposes of this post, though all opinions are my own