We are delighted to be working with Playmobil this year as part of their playologists team, testing and sharing their products with you. Being a top manufacturer within the preschool toys sector, these are always popular with the kids, so we were keen to start working with them. Our very first assignment could not have been better from Little Man's point of view. It is a product from their brand new Ghostbusters™ range, so read on for our Playmobil Ghostbusters™ Ecto-1 review….
It is Playmobil's first entertainment brand license working together with Sony bringing these fantastic sets to life. You can check out the full Playmobil Ghostbusters™ range here.
Ghostbusters™ Ecto-1 Details
Ghostbusters action vehicle with light and original siren sound. With Ghostbusters Winston Zeddemore and Janine Melnitz in the Ghostbuster outfit. The included light and sound module requires 3 x 1.5 V micro batteries (not included). Dimensions: 33 x 12.5 x 13 cm (LxDxH).
– The vehicle offers space for four Ghostbusters figures, their proton packs, ghost traps and other equipment.
– Incl. four clips specially for the Ghostbusters' proton packs.
– The roof can be detached.The rear door can be opened.
– With the working light and sound module on the roof, the original siren sound and blue light can be activated using the separate buttons.
– Other accessories: Two detachable proton packs with proton wands, opening ghost trap, PKE meter for measuring psychokinetic energy, and a silicone slime blower which sticks to smooth surfaces.
Ghostbusters™ & © 2017 Columbia Pictures Industries, Inc. All rights reserved
Playing with Playmobil Ghostbusters™ Ecto-1
We already have several Playmobil toys here, so it was as I'd expected in terms of being good quality with great attention to detail.
Equally as expected, on opening the box there were several packets and a sheet of stickers, so I knew I had some work to do.
I'd say it took me around 20 minutes to assemble it all and I would recommend doing this alone if possible, as small grabbing hands can be distracting!
It does require 3 AAA batteries, so do get these in ready.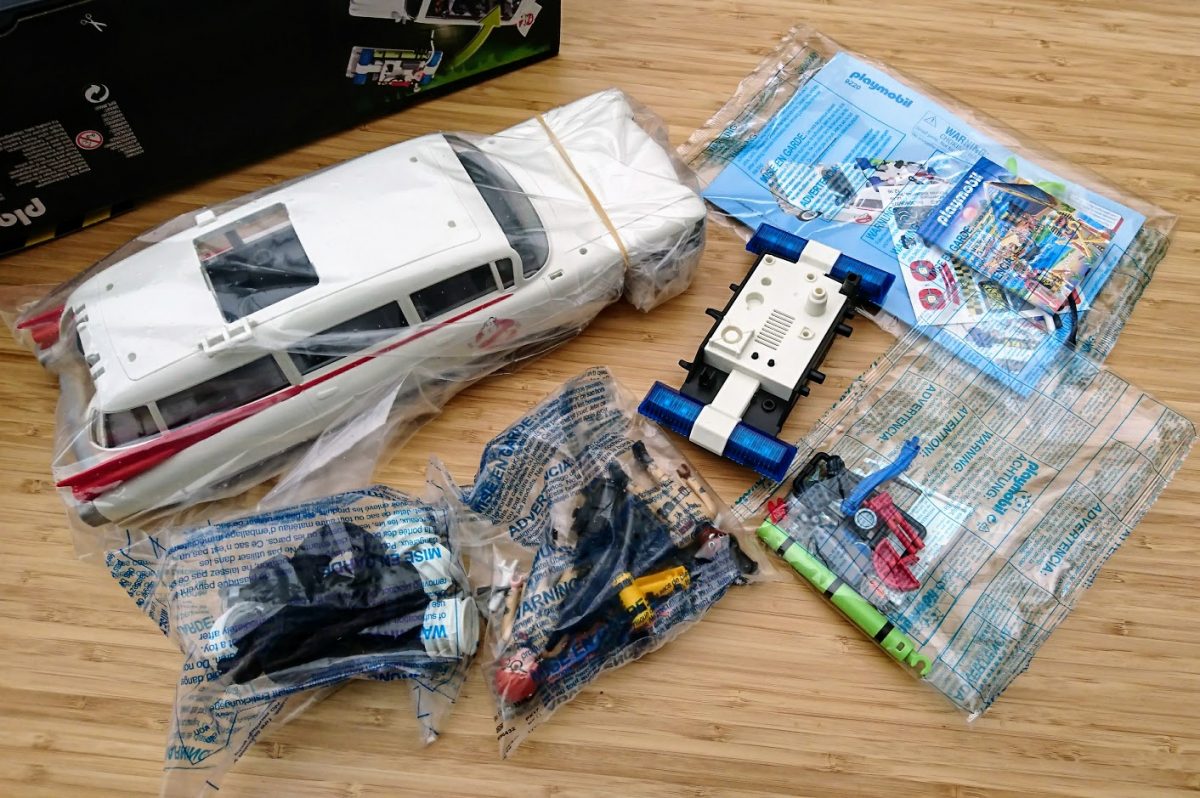 Once it was all assembled, Little Man and Boo were very keen to play.
There are lots of details included to keep this interesting for children. The lights flash and the sirens can be turned on, and they're not that loud.
The back of the car opens up and the top also lifts off so that you can play with the characters and equipment inside the car.
It comes with two figures and they each have proton packs, along with the trap and a ghost detector.
The kids love taking the top off and arranging everything inside, swapping the drivers around and driving the car along.
The proton packs shoot out the streams, which are removable so that they take them off when the streams are not in use with the trap during their game.
As you can see, the figures stand up well on their feet, and Winston can balance well for a time whilst the Ecto-1 drives along!
The slime gets thrown at the people, the car, at each other – you name it, it's been slapped there!
Playmobil Ghostbusters™ Ecto-1 Review
It's a hit. I knew that it would be, to be honest.
The kids were thrilled when it arrived. Despite never having watched the films, my Little Man adores Ghostbusters™. He has a little Ecto-1 car and a cuddly Slimer and both Boo and he are very familiar with the song – which I now hear a lot more of it as they like to sing it as they play with this!
I myself am a big fan of the movies, which is why Little Man found the DVDs in our house and fell in love with Slimer.
I must admit I was excited about the little ghost trap there that opens up and I *might sometimes shout out 'don't cross the streams' and play a dramatic scene out where the streams do cross. Only might, of course.
I've asked the children what they like best about this and Little Man loves that it all opens up, whilst Boo loves the slime and the noise and lights.
Personally, I love that they have a toy that they both play happily with and that I know will be durable and sturdy. And I'll have to accept that Little Man now wants the rest of the range and add it to his birthday list!
I enjoy listening in on the imaginative play that Playmobil sets always trigger, which is why I am so happy to work with them this year.
This new range looks to be no exception as this is well-made, with lovely little features and has really captured my kids' imaginations.
Would your children enjoy this one?
*you know I totally do
Disclosure: We received this product FOC for the purposes of this review, and the post contains affiliate links