Today I am talking snail mail, as regular readers will know that I am a big fan of putting pen to paper. This is a little follow up to a post I wrote last year sharing how to make a pocket letter. It was fun to do, quite relaxing and it went down well with the recipient. I have now discovered a speedier way to make them, meaning that I am making more and sharing with you pocket letter – the easy way today!
The trick it seems is all in bulk-pocket-lettering (yes, that's totally a thing). I get everything out and once I have the tools I need to do this and I am in the zone, I make several at a time.
This means that all I need do when it comes to sending my happy mail is actually write the letter, which is no different or any more time-consuming than what I'd normally do.
I like to use books of craft paper where possible, and this one I'm featuring is from The Works – I think it was £4 for the pack.
Craft paper is a little thicker than normal paper or wrapping paper so it slots easily into the pockets.
As I like to use different backing papers across the pockets, by making several letters up at a time it means I use every bit of each piece of paper.
If making just one, I find I have loads of bits of paper left over.
The little paper trimmer with a ruler definitely makes this much faster, too. I don't remember where I actually acquired this from, but it has come into its own for me now!
This makes this process a lot faster, so if you're looking to do this, I would definitely suggest picking one of these up.
Bring Back Paper memberships now available!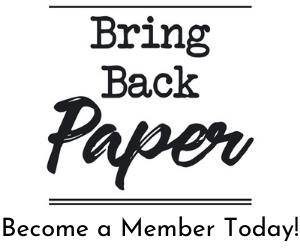 As I have all of my snail mail box and bits and bobs out whilst I do this, it's all to hand, so I can fill the pockets up en masse.
As I mentioned in my previous pocket letters post, you can pop whatever you want into this, and I tend to include a drink, bits of stationery and craft supplies, mail tags and of course, the letter.
Pocket letters are so much easier now that I am using my paper trimmer and making several at a time. It's got me rummaging about through my supplies planning my next batch and thinking about different themes for them. All good fun!
For more snail mail inspiration, you might want to check out my YouTube channel and read Getting Started with Snail Mail.
What do you think? Would you send these?
If you're new to Bring Back Paper, you can find out more about it all here. You can join our Facebook group here and you can sign up to join my mailing list below, for all the latest news, updates, ideas and activities.