This is a collaborative post
Your garden should be your safe haven after a long day, somewhere to relax and entertain guests while soaking up the sun. There are plenty of ways to give your garden a new look without having to spend hundreds, if not thousands, on a landscaper or gardener. If your garden is looking a little tired and you want to bring some life back into it, we're here to help with our essential tips to transform your garden; with careful planning and not taking on too much at once, your garden will look like new.
Treat Yourself To A Log Cabin
Traditional sheds are on the way out as log cabins become the trendy choice for gardens. They offer a variety of uses such as summer houses, offices and, of course, sheds to store tools, all while adding a beautiful feature to your garden. Throw out your old tired shed and make your garden more appealing by choosing a log cabin as a gorgeous addition to your garden. Buy Sheds Direct offer a fantastic range and have assistance on hand if you need help finding the right one for you.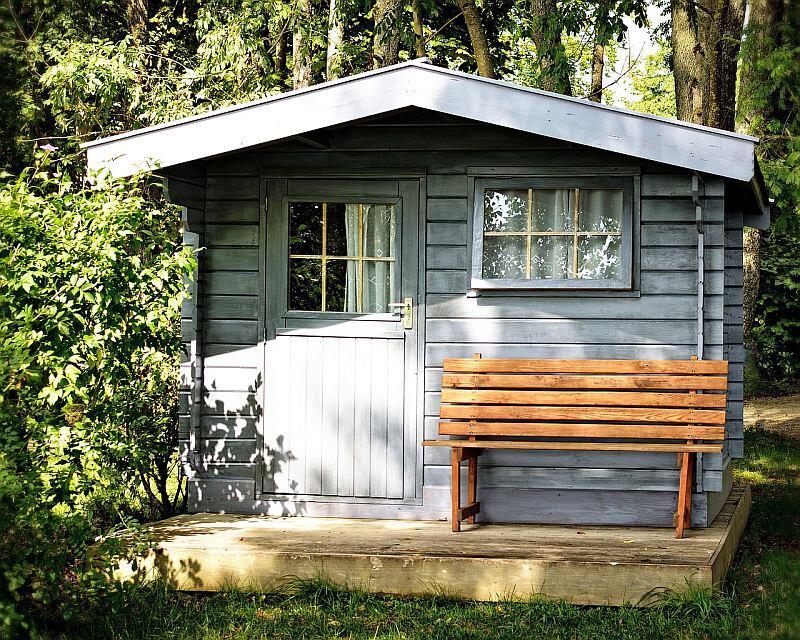 Add Some Paint To Your Flower Pots
Pick up some outdoor paint and refresh your dull flower pots with cheerful colours to keep your garden bright all year round. Remove stickers and gently sand off any remaining residue before you get started to give your pots a professional finish. Get creative with solid colours and stencils; paint your pot, let it dry, and then add fun stylish motifs in a complementary colour using stencils. Complete your hard work by adding a coat of acrylic sealant so your pots stay colourful for longer and your stencil designs don't fade.
Refresh garden furniture
If your garden is on the smaller side or you wish to keep the budget down, multipurpose seating is the perfect solution for you. Floor cushions and pouffes can be used as alternative accessories or extra seating when you have more guests and can easily be stored in a seating bench. If you have an outdoor armchair, invest in a footstool to add that extra comfort to your summer lounging.
Hanging chairs are a fantastic accessory for every garden; give yourself the ultimate spot to relax as you float above the ground surrounded by the sounds of nature. Conceal the frame with tall plants and creeping vines to add to the visual effect.
Repair your fencing
Broken or tired fencing can leave a garden looking uncared for, and repairing your fencing will give your garden a new lease of life. It's vital to fix the problem areas quickly before they impact the rest of your fencing. If your fence panels have rotted or are badly damaged, you may need to replace them completely; most garden fences are a standard size, so finding a replacement at a local garden centre should be easy. When repairing your fence, you may need to replace the posts due to rot as well; this part of the fence is prone to rot, although if there is only a tiny amount, you can usually get away with only reinforcing the posts.
Once you've repaired your fence, freshen up its look with some new paint; this will not only improve the look of your garden, but it will also help to protect it from rot in the future. Specialist paints designed for use outdoors will stand up to weathering and can be applied by a brush or spray. Pastel shades are this year's trending colours; try olive greens, dusty pinks or a lovely baby blue.
Garden Decorations
The little details can really pull the look of your garden together; look into miniature sculptures and accent pieces to get your guests talking. A fire pit can be a fantastic accessory and a perfect place for your guests to gather at the end of a meal.
Repurpose old teacups and mugs that you no longer use as pots for herbs and succulents to decorate your table and windowsills; paint mismatched sets complementary colours to add the perfect charm to your garden.
A great decoration that is often forgotten is mirrors; in a small garden, this unique addition can help give the illusion of extra space. Magnify the impact of your garden with well-placed mirrors to multiple the flowers and brighten dark corners. Obviously, placing a mirror outside is going to expose it to the elements; if you protect it and take some precautions, you can extend the life of your garden mirrors. Use a water-proof silicone caulk or a spray sealant to reduce the amount of water that can get into the frame or backing of your mirror.
Light up your lawn
Outdoor lighting is the easiest way to refresh your garden; festoon lights hung from a tree or across your garden will give your garden an intimate glow and extend your evenings enjoying your garden.
Add a touch of magic to your garden path with inground solar lights or frame them around your seating area. Mix and match styles to give your garden a quirky twist, and hang single solar lights shaped like bees or butterflies in trees and tall plants.
Bring Your Garden Inside
Improve your outdoor views with enchanting windowsill gardens; start a herb and vegetable garden on the kitchen windowsill and add humid loving plants in your bathrooms.
Create hanging gardens above your windows, and enjoy the fresh scents of year-round plants. Get inspired with old mason jars and turn them into planters; miniature chalkboard stickers can be stuck to the outside of the jars to quickly identify your herbs, vegetables, and flowers.
Home-grown herbs and vegetables have a taste you simply can't buy; once you begin growing your own, you'll never go back. Not only do you have the satisfaction of having grown it yourself, but you're also saving money. Parsley is a great herb to start with as it's considered an easy grower and can even flourish in the shade. Tomatoes are the perfect starter plants when growing your own food. Once they thrive indoors, you can move them outside for the summer sun before enjoying their fruits on your salad.
Disclosure: This is a collaborative post