If ever there was a time to be sending snail mail, it's at Christmas. More post gets sent out now, as many of us send cards out to friends and family, along with any normal letters to pen pals. I love it!
It's an opportunity to send smiles through the post, so I have been buying a few things to pretty up my Christmas mail to pen pals, which is fun for me to do and hopefully the recipients will enjoy receiving them.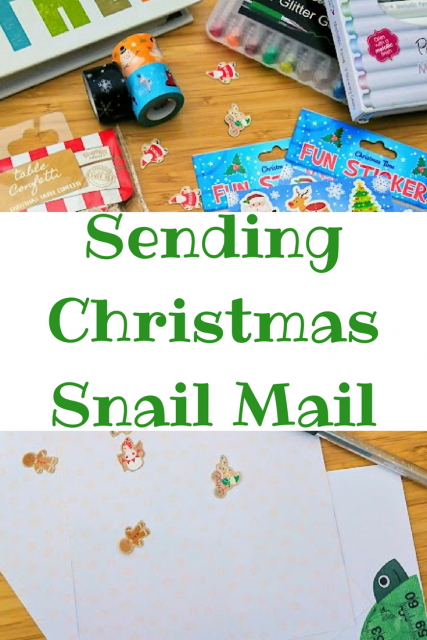 Christmas Snail Mail
I bought these from Amazon last week, Christmas Stickers
and Christmas Table Confetti
and they are proving to be perfect for making my snail mail all Christmassy. I'd also suggest decorating with seasonal washi tape and writing with sparkly pens (it's a given, right?). I love using these Gelly Roll Stardust Pens
 as they write so smoothly. I also have in my papery stash some star stickers, and I like the idea of using silver and gold stamps.
I have only written one festive missive so far, and it will be winging its way overseas shortly. For this one I went for pretty paper, from one of my many, many letter sets, but there are also loads of free Christmas writing paper downloads available if you'd like to get your paper themed. I have also created this rather lovely gingerbread and hot chocolate writing paper here on the blog, completely free to download.
It can then be fun to pop a few festive treats into the envelope along with your letter. Here are a few suggestions:
Christmas Envelope Stuffers
Hot chocolate sachet
Spiced Tea
Christmas table decorations
Christmas post cards
Festive stickers
Christmas tree decoration
Christmas colouring pages
Christmas-themed mail tag (not sure what a mail tag is? Here you go!)
If you don't normally send happy mail and have no pen pals, you can still have a little fun with Christmas post. If you're sending a card anyway, why not pop in a chatty note, an envelope stuffer or just pretty up that envelope with stickers and washi?
Will you be sending some Christmas snail mail?
Disclosure: This post contains affiliate links