You're now at the point where you have yourself a pen pal or two and are enjoying sending letters to and fro. It's a lot of fun and you are now thinking about how you might be able to decorate your post to make it nice and pretty, you want to give some mail art a go.
To help you out, I want to share with you a few simple tips to take your plain envelopes up a level.
These are nice and easy ideas that anyone can do, as I am not very artistic at all. If I can do it, anyone can do it!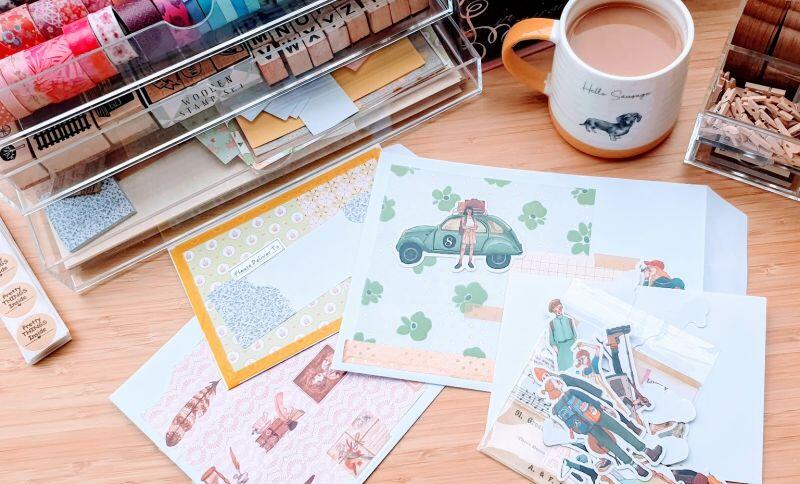 Before we begin, and I cannot stress this point enough, you don't have to do this!
This is for those of you who want to have a play around with ideas and want to get creative occasionally. Decorating your envelopes is not an essential part of having pen pals, it's just an extra element of fun that you can try if you want to.
The correspondence and connections are always more important than the envelope, so don't be put off sending letters thinking that this is an essential part of it. It isn't. This is extra!
You might want to start by checking out my ultimate guide for pen pals first if this is all new to you. If you have pen pals and are keen to try some new envelope designs, then read on.
Easy Mail Art
Use Colours
The easiest way to jazz up an envelope is simply to use colours.
Write the name and address in a bright colour, or even several bright colours.
You could doodle on it or draw a colourful border around the envelope edge and address. Super simple but effective.
Use Washi Tape
You know I love washi tape!
The fastest and easiest way to pretty up an envelope will be to add some washi tape.
It'll take you seconds to add a couple of strips of washi to the envelope, front and back, and you've instantly made it more fun to receive.
Alternatively, add a few stickers. Easy!
Cover The Envelope
You can cover the whole front (and back if you want) of the envelope in colourful paper.
This might be patterned paper that you have, or you could use magazines or wrapping paper too, all of them will look great.
You might choose one design or you could mix and match two or three.
You can cut them out with straight or patterned scissors, rip them for a different look, or mix and match the two ideas.
Once your envelope is covered, have fun adding bits of washi tape, stickers and perhaps another strip of paper for an address.
Theme the mail art
You might choose to theme your envelope.
This might be by way of the subject matter or the colours.
For example, you could create an autumn envelope, a botanical design or perhaps your pen pal loves cats so go with cats!
Cut things out from magazines, use stickers and tape, and take a look at the paper designs you have.
Theme it by subject or colour and have fun bringing it all together.
I discuss all of these ideas, show you a few simple mail art designs and create a couple with you over on my papery YouTube Channel.
Watch my video for a closer look and a chat about putting envelopes together…
I do hope this helps.
Let me know whether you try any of these ideas or whether you've been having fun with mail art.
To show us what you've been up to, just use the #bringbackpaper hashtag on social media or pop to the Facebook group to share!
If you're new to Bring Back Paper, you can find out more about it all here. You can join our Facebook group here and you can sign up to join my mailing list below, for all the latest news, updates, ideas and activities.