This is a collaborative post
SpongeBob SquarePants is on NOW TV, which means that Little Man and Boo have 'discovered' it. Unlike some of the shows that they watch, I'm actually quite happy about this one as I like it, too, featuring it in my Top 5 Nickelodeon Shows for that very reason.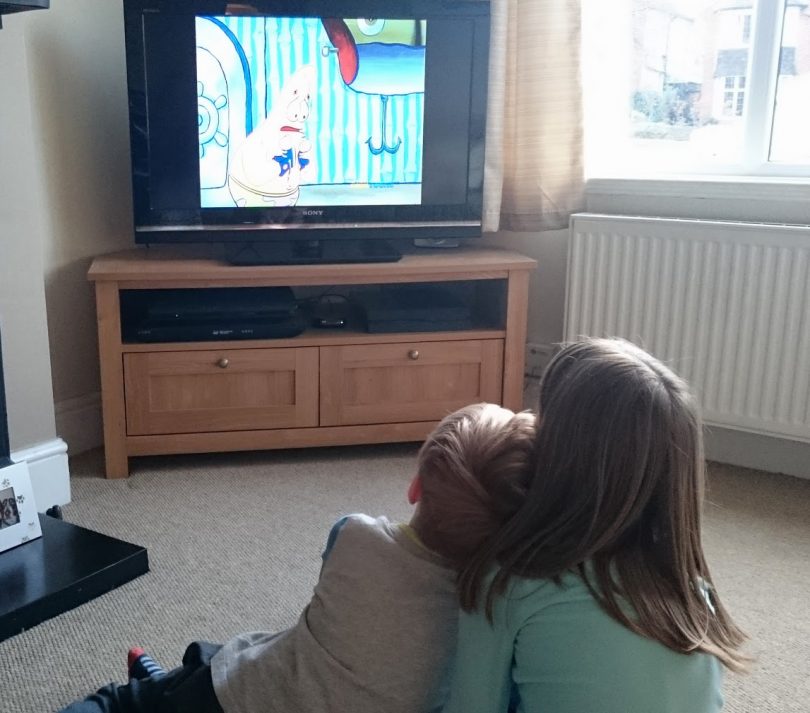 Squidward Tentacles is clearly a brilliant character, my favourite, and the kids really like Patrick as well as SpongeBob himself. Who is the favourite in your house?
On Nickelodeon they've also been enjoying Sanjay and Craig and of course my daughter's all-time favourite show, Teenage Mutant Ninja Turtles. Over on Nick Jr. they like Ben and Holly's Little Kingdom and Peppa Pig. I've actually yet to meet a child that doesn't get taken in by the magic that is Peppa Pig, she seems to conquer all!
We have received this fun pack of goodies to get the kids even more interested in watching the little yellow guy…
It's all been a hit, though need I say that by far the most popular item here was the slime? Oh my, they loved that!
As SpongeBob SquarePants is on NOW TV, it's an easy way for the children to watch him. We have a NOW TV box which comes with the most simple remote control that I think I've ever seen, so that my three year old can competently operate it, let alone the 6 year old. The set-up on NOW TV is that you can scroll through the kids TV shows to make your selection and all feature an image so that they can quickly find it and click on it. There are currently 2 full seasons of SpongeBob on there, which means 40 episodes, so plenty to keep them happy.
Nickelodeon is streamed live and many of the shows can also be viewed as box sets and on catch up with NOW TV.
With the NOW TV Entertainment Month Pass, you get the latest and best shows that are not on Freeview, over 250 box sets with up to 30 added a month and 13 top channels, such as Sky Atlantic, FOX and MTV. Stacks of entertainment!
Is SpongeBob SquarePants a hit in your household?
Disclosure: We are members of the NOW TV blog squad and this is a collaborative post