Herbie is getting big! Relatively speaking, of course, he is still a miniature dachshund not a Great Dane! I am wondering how much bigger he will get, I suppose we will soon see. I like charting his progress here each week, though I think I'll only run this for one more week and I will then dip in as and when with Herbie updates. You can always follow his progress on my Instagram Stories, too.
You can check out last week's update here, or pop to here for all puppy posts.
Herbie the Miniature Dachshund at 15 Weeks Old
Training and Behaviours
Teething is top of the agenda this week as it's clearly been troubling Herbie. He has destroyed so many toys, blankets and beds this week, but he has been very good as it has only been his own belongings that he's been chewing. So far, and I do say so far cautiously, he hasn't touched anything else in the home (the garden is a another matter entirely!). He's a good boy.
4.45am seems to be the latest that he can sleep in this week. Despite being in our room, with blackout curtains, he just senses that dawn! He needs the toilet then, though as long as he's fed, he will settle back down to sleep afterwards.
Whilst I am nervous of typing it and jinxing it, I can't recall when he last had an accident in the house. It's been several days now, it does seem to be clicking. I am in no way saying he's fully house-trained yet, but he's definitely getting there.
Clicker training and puppy classes are continuing to go well. Herbie responds really well to any training, with food rewards, and he does pick up things quite quickly. He clearly enjoys it, as long as it's short and fun sessions. We have a pretty strong Sit, Stay, Find it and Leave, with Come, Watch, Legs, Stand and Wait progressing nicely. Down continues to elude us, he's just so low that going 'down' seems pointless to him. We will persevere!
Walking on a loose leash has been bumped up the training agenda as Herbie is racing along and pulling at the moment. This will be our priority over the next month or so, I think.
Herbie is becoming more confident at home and is leaving my side regularly now. He settles down in another room each morning when I go to my office to work and is quite content. He no longer follows me about, he has realised that there's often little point in doing so. He also takes himself off into the garden and stays out there for ages without anyone.
Out and About
Over the weekend we took Herbie to a local sausage dog walk, there were so many sausages there! I wasn't too sure how he'd get on as he sometimes barks at other dogs, but no, he was great. He joined in happily, though I noticed that whilst the other dogs were walking, Herbie was sprinting. He hurt his little pads pulling so much, but it didn't slow him down. Of course he couldn't go on the whole walk being a puppy, but for the bit that he did do, he was really happy and tired. We will go again next month as it was lovely seeing so many dachshunds and chatting to their owners.
Herbie continues to come on the school run daily with me, safely tucked away in his bag. He's so good in there, greeting loads of kids every time he's there and then just chilling and sometimes napping in his bag. He's used to it and settles well.
The Husband and Boo took Herbie out for a short walk and somehow he got so muddy that he needed a bath on his return! I think being low to the ground can have this disadvantage. They tell me he was fine in the bath and took it all in his stride.
I left Herbie at my mum's for the first time a few days ago, to see how he'd get on. He was fine, but so tired when we got home as he'd been running around her garden for the whole time. I'll gradually build up the time that he spends there without us so that he gets used to it as this will be his home if ever we're out for the day or away on holiday. He adores my mum and the feeling is definitely mutual, so I am sure it will be somewhere he enjoys.
Fun and Favourites
Herbie has a yakkers chew that he only has in his school run bag. He loves it! It's lasting him a long time and is giving him something to really gnaw on whilst he's teething.
I've noticed this week that Herbie likes to burrow under his bedding at times for naps. He's always preferred lying on top of things until now, and when I have tried covering him with a blanket he's slowly emerged. But this week I have 'lost' him a couple of times as he's been napping underneath throws and I didn't spot him!
Herbie likes playing games, games where he has to use his brain or his nose. He's good at them and works out what he needs to do increasingly quickly. I need to step the challenges up.
Herbie eats all of his kibble at every serving, which is now three times a day. He has Canagan small breed. His favourite foods are currently chicken, cheese, tuna, hot dog sausages, cottage cheese and sardines. Oh, and he is partial to a cheese omelette. He is not a big fan of salad, vegetables and fruit, aside from frozen carrots as he loves those. He will eat bits of apple, pear, blueberries and strawberries, but he's not desperate and he has flat out rejected broccoli and spinach. Leaves from the garden and grass, yes, spinach, no!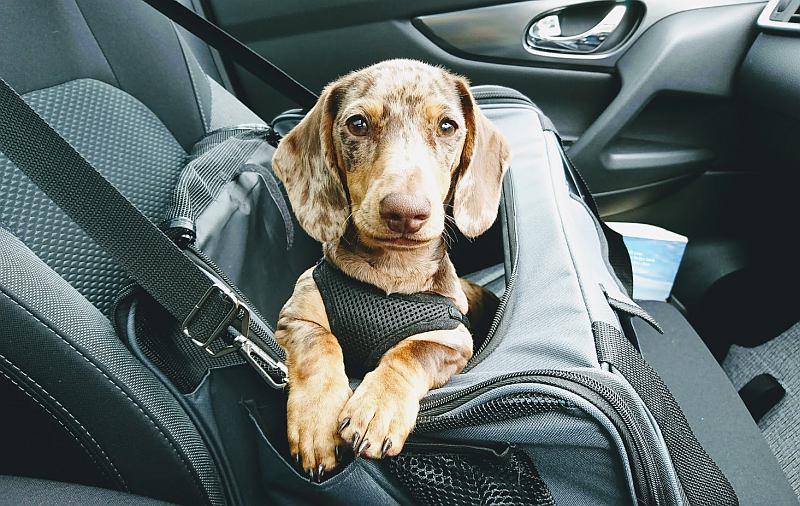 You can pop over to my Amazon Best Buys for Puppies store for recommendations of products that have worked for us or that Herbie has loved.
What do you think of Herbie's week?
Disclosure: This post contains affiliate links