To air fry or not to air fry, that's been the question in this house for a while.
Unless you've been living under a rock, you'll know about air fryers, or at least you'll know about the craze for them.
I saw everyone buying them towards the end of last year. I saw them being impossible to get as they went in and out of stock constantly.
I thought I'd wait a little on this one.
I wasn't convinced by them.
And it just seemed wise to wait until the demand died down and see what everyone thought of them.
Is this going to be another fad item, one that people don't really use that much?
Is the air fryer the next bread maker? And yes, I know some of you will love and use your bread maker. But I bet most of you don't!
I waited. I asked questions. I looked into it. And then I bought one.
It turns out that everyone I've asked loves theirs, rave reviews in fact.
I've friends who hate cooking and they love their air fryer. I've friends who love cooking and they love their air fryer. It seems that however you cook, whatever you cook, these things can be good.
Of course the huge appeal at the moment is how little energy they use compared to putting the oven on. With energy bills soaring, any reduction in energy appeals.
This post contains affiliate links
This is the one I got, after a fair bit of research.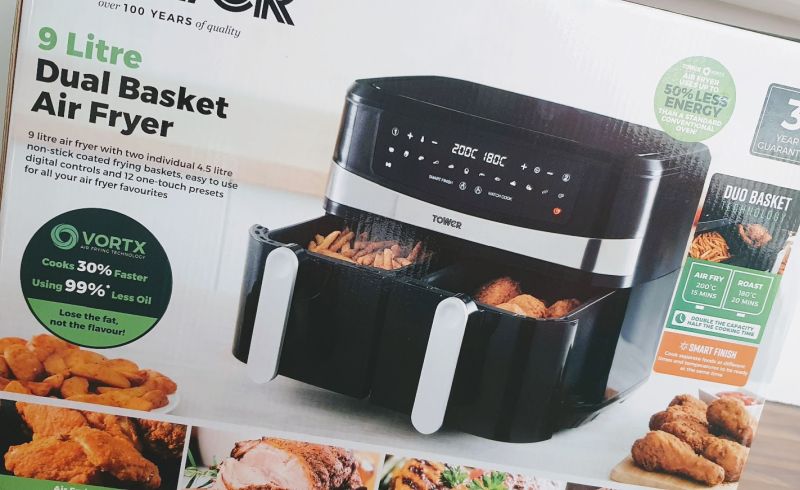 It's the Tower T17088 Vortx 9L Duo Basket.
I wanted a dual basket fryer so I could cook two things separately if needed or prepare the whole meal. I went for a 9L capacity to feed our family of four. And I wanted one with several functions, such as fry, bake, roast and so on. This one fit the bill and at a considerably lower price than the popular Ninja.
I ordered it and then fell down a rabbit hole watching TikToks and YouTube showing me how to use it and what to cook.
We're early days with this.
It arrived last week, and I am already telling you about it because I've been that impressed.
It cooks food faster than my oven. It uses a lot less energy than my oven. And the best part? The food tastes better.
I'm thinking the kids will also find this easy to use so they can start making more food for themselves.
So far we've made several meals in this and also baked a couple of cakes.
It's simple to use once you get the hang of it, quiet whilst it cooks and easy to clean.
If you're like me and have been on the fence about air fryers, I'd suggest getting off the fence and going for it. I'm looking forward to trying many more of those TikTok recipes!
What are your thoughts on this one? To air fry or not to air fry?
Disclosure: This post contains affiliate links