OK, I don't literally mean using a notebook to dust, you understand?! I want to share how I am going to be using a bullet journal for cleaning, as if you spotted my post on Monday, you'll know that Mrs Hinch has given me the cleaning bug.
The only problem that I was having with it, was the urge to do everything at once! Those of us who have been out and completed a Hinch Haul (or two or three) will have cupboards heaving with cleaning products and a desire to try out loads of the cleaning tips we've been seeing, but where to start? This is where my bullet journal comes in, as it's going to help me stay organised and prevent me from feeling overwhelmed.
I started organising this by jotting down the tasks that I wanted to complete and then deciding whether they were going to be done daily, weekly or monthly. I'm sure everyone's lists will look different as we tailor it to our own homes, but mine make sense to me. Armed with my lists, I transferred them over to my bullet journal in some semblance of order and in a way that made everything manageable for me.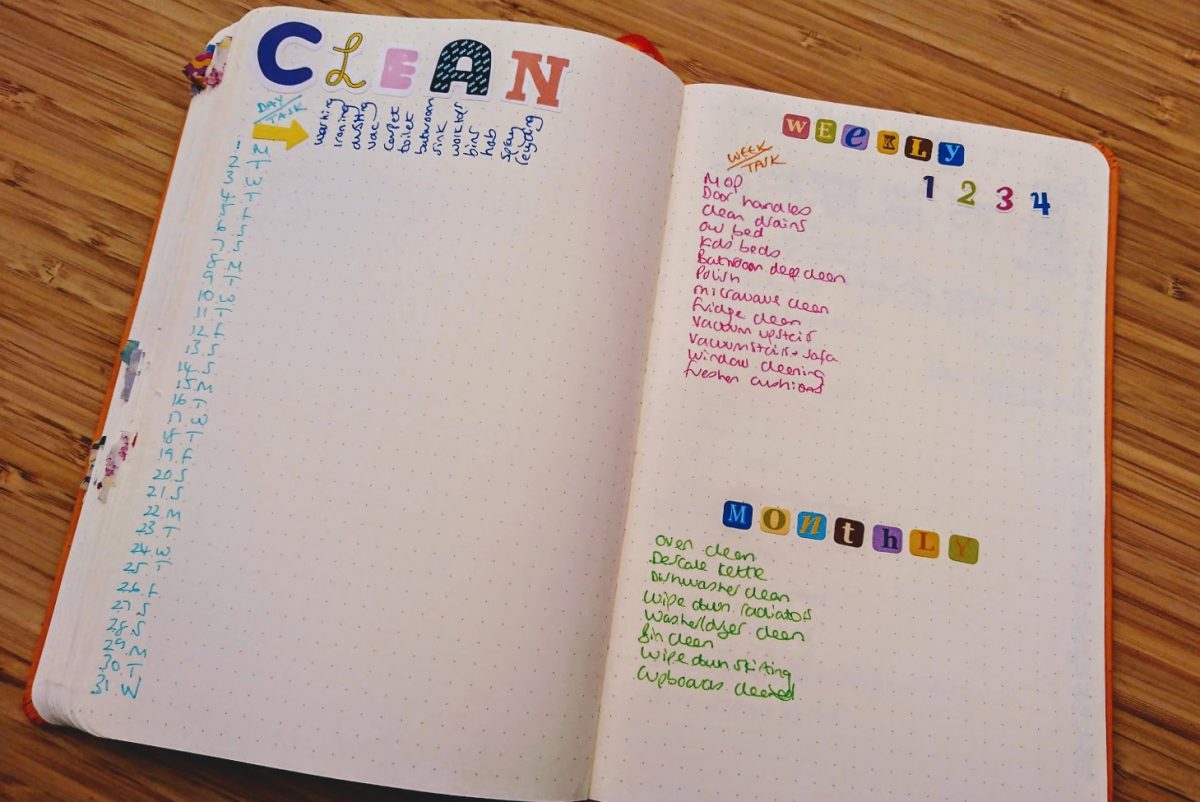 I have a page for daily tasks. I have noted down each day vertically and then popped the tasks that I need to complete horizontally across the top of the page. I will simply tick each task as I complete it on the corresponding day. Simple. I have left extra room in case I find other things I need to do daily here as I get going.
On the opposite page I have split it into two sections, for weekly tasks and then monthly jobs. For the weekly tasks I have then numbered each week and I will tick them off throughout the week. This allows me to keep track of what I have and haven't got done as I am going through the week, and it will also serve as a reminder that I do not need to do all of this in one day! I am getting into the habit of cleaning straight after the school run before I sit down to my work, so I will get my dailies ticked off each morning and then pick a weekly job or two to get done before going to my desk.
I then have the monthly section, though some of these may be quarterly, too. With these I plan to date when I do them so that I can track where I am at and carry things forward into the following month's spread if need be. These will be picked up in odd pockets of time that I find – hope to find!
So that's it, all sorted. This cleaning spread makes perfect sense to me and makes it so much easier for me to get everything done, as well as providing me with that all-important opportunity to pop a tick in the box when jobs get finished. Such satisfaction!
You'll know by now that I need to use my bullet journal to empty my head. For me, this is the biggest win here and the reason that I have added this cleaning spread into my journal. I don't need to think about this any more, it has decluttered my head of cleaning plans as they are all now on paper and I just need to follow these lists without having to engage my brain. It's also ensured that everything will get done, as if it's on a list, I get it done!
Have you got a cleaning log in your bullet journal? Or are you using another method?
Inspired to get started with your own bullet journal? My Getting Started with a Bullet Journal post has all the information you'll need – enjoy!
If you're new to Bring Back Paper, you can find out more about it all here. You can join our Facebook group here and you can sign up to join my mailing list below, for all the latest news, updates, ideas and activities.