As more and more people find Bring Back Paper, this is a question that I get asked a lot. Today I thought I'd give you the lowdown on how it began, where it is today and how you can get involved, as I answer the question 'what's Bring Back Paper all about?'
The Start of Bring Back Paper
Bring Back Paper began a few years ago, here on the blog. It was simply about sharing my love of all things papery and encouraging likeminded folks to do the same.
I wrote blog posts about everything from book recommendations to stationery loves to happy mailings. This was all about talking about a few of my favourite things.
The #bringbackpaper hashtag then started up, a place for people to share their papery finds and creations over on Twitter and Instagram.
And finally, I started running Bring Back Paper activities. These were sporadic initially, but they soon gathered momentum as more and more people joined in with them. I had discovered that there were plenty of people out there who liked all things paper too, and the community started to build.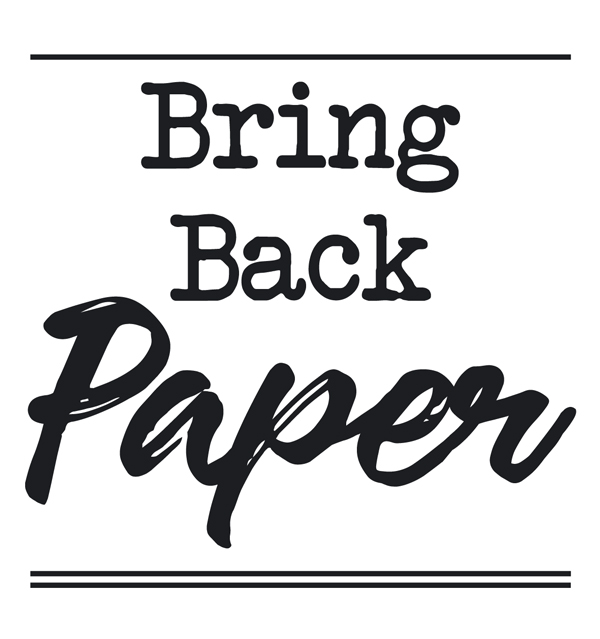 What Does Bring Back Paper Look Like Today?
From those papery roots all those years ago, a papery community has grown.
Today Bring Back Paper has plenty of different strands and so many supporters, it's a real joy to see how it has evolved.
To break it all down, Bring Back Paper now encompasses:
The blog series. I continue to share papery blog posts every Wednesday here on the blog.
These vary hugely from week to week. Sometimes they will be announcing activities, sometimes they might be musings about reading, perhaps a papery tutorial, then maybe a journal post, followed by a stationery review. If it's papery, I will feature it!

The book readalong. We now have a book readalong every month. Again, it's announced here on the blog and shared everywhere else. It's a simple online book club where we all read the recommended book that month and then share our thoughts on it, if we'd like to, in the Facebook group or on social media with the hashtag.
I love reading with everyone else, there's something fun about feeling you're part of something bigger than just you, snuggled up alone with your book. It's also fun selecting the new read every month, and I try to alter the genres all the time so we're reading things we might not always gravitate towards.
The activities. We have new activities every month, always announced here on the blog, the first Wednesday of each month. They'll then be promoted in my newsletter and across all of my social media channels.
These activities offer different things for people throughout the month, as they rotate. We have book swaps, stationery swaps, postcard mailings, and then once or twice a year, a pen pal sign up is open. This last one is super popular!
The activities on the blog are open to everyone to join in, free to enter and friends all over the globe are welcome, I just ask that you're over 18 to take part.
The Etsy store. I now have a shop full of paper printables that I created myself! I didn't imagine this would happen when this began, yet here we are and I absolutely love creating products for you to download.
You'll find the original pen pal pack there, a variety of organisers, pen pal fun packs with writing paper and pen pal templates, pen pal trackers, posters and more.
I initially hosted a store and launched the pen pal pack here on the blog so I know many of you bought from me directly that way. It then made more sense to move everything over to Etsy and now that I am all set up over there, I plan to continue to grow the range.
The Facebook group. This came out of the blog series and some of the activities I was running, as a place to chat about paper, books, happy mail, stationery and to share pictures of the swaps.
It's a place for anyone who enjoys relaxing with paper to hang out and chat.
It's open to all, and we've now got over 1500 members over there. I always share the latest news and activities over there, the book readalongs, people show off their mail art, their first attempts at papery things, ask for tips, swoon over stationery and then there are always pretty photos of people's hauls or swaps.
I love spending time there. 'My people' are there!

The Patreon Bring Back Paper Memberships.
The Bring Back Paper memberships started at the end of last year, after much research!
The memberships are for those people who want a little bit more than the blog activities. They are for people who want to enjoy their paper every month, a way for me to offer more.
All tiers of the memberships include exclusive printable writing paper every month, votes on content, a discount off my Etsy store, an ongoing pen pal sign up and extra content and giveaways from time to time.
Most of the tiers then include the option to join in with monthly activities, and these are different from those offered on the blog. They have so far included things like a sticker stash swap, a my hometown swap, a cheer-up package swap, a travelling notebook, a mail art challenge, a welcome to autumn swap and so on. There's a new one monthly and patrons can opt to join in each time.
There are then happy mail options, where I get to be creative and play with stationery! You can receive happy mail from me, you can receive some stationery goodies, or you could opt to receive some stationery goodies and a book, all arrive monthly.
I really enjoy working over on Patreon, and we have a lovely group of paper-loving patrons over there.
The YouTube Channel. I share Bring Back Paper uploads over on YouTube every Wednesday.
The channel has had a few stops and starts, as I've worked on other projects and it's fallen down the priority list. But it is right at the top again now, so you can be confident that there'll be a fun papery video up each week to watch.
Be sure to click and subscribe and turn your notifications on so you'll see what's happening each week.
The #BringBackPaper hashtag. This one's simple. Just use the hash tag whenever you share anything papery over on social media!
It's a way for you to find papery posts and connect with other paper fans. I always share highlights from the #bringbackpaper hashtag over on Instagram, on my InstaStories every Sunday so do tag it over there.
How Can You Get Involved?
Well, as you can now see, there are plenty of ways for you to get involved with #BringBackPaper.
You might want to join in with a monthly activity or perhaps you want to join the Facebook group and see what's happening over there.. You might want to treat yourself to the Patreon memberships, or maybe you will pop to the blog or YouTube channel and take a look. You might share your latest reads or mail art over on Instagram, so just add the #bringbackpaper hashtag and you are involved and supporting.
It really is simple to be a part of this, just choose whatever appeals to you most and come and join in.
The best way to keep on top of everything that's happening is to sign up to my weekly newsletter. I will always share the activities and readalongs there, the latest posts along with some from my blog archives, the latest YouTube uploads and any new products or offers.
Every person that enjoys any of the Bring Back Paper activities, content or products is a member of the club, and you are all very welcome!