Firstly, can I say how amazed and delighted I was to have so many of you joined in last week. I absolutely loved reading everyone's words and why they'd chosen them – so many wonderful posts! Hopefully, some of you will link up again, and I'm looking forward to seeing what this week has been like for you. To find out more about joining in, read all about it here.
For me? It's been all about…
If you read my Climbing and Adoring post a few days ago, you'll have a good idea why! Little Man is a climber. With absolutely no fear. In the last few days, he's conquered the play kitchen, his toy-box, beds, the dining table, moving steps and chairs around to reach sinks, breakfast bars and toys and climbing over the arms of the sofas to get up and down. I've found him in endless precarious positions – he climbs at the speed of light, people, the speed of light! I've lost count of the amount of times this week that I've rescued him, though 'rescuing' is a little misleading, as it implies he wants help. He does not. He wants to be exactly where he's climbed, too. The 'rescuing' part is purely for me  – I rescue my wriggling son from precarious situations at least hourly, he protests, but my heart is no longer in my mouth. I am rescued.
So, that's me, now over to you. Grab the badge, link up your posts with #WotW, and do pop and see what others have chosen as their word this week.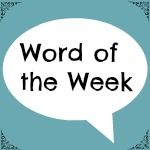 Linky opens Fridays at 6.30am, and closes Sunday midnight.