Hello and welcome to Word of the Week. I hope you've all had a lovely Easter and break. It seems to have flown by here!
If you're new here, Word of the Week is a nice and simple weekly linky, with everyone welcome to pop by and share. You reflect back on the past week and sum it up in one word. Then share your word with us in a blog post, with as little or as much explanation as you like. It's a fun and friendly linky, so please do be lovely and visit as many of the other blogs as you can and share with them your thoughts on their words and weeks. I do comment on every entry to the linky, and if you add the Word of the Week badge to your post to help spread the 'word', I also tweet them out.
My word of the week this week is:
I don't know whether it's the sunshine, being on holiday or just circumstance, but this week I've been feeling very creative. Not a usual state for me, and I am really enjoying it.
Whether it be photography, snail mailing, baking, gardening, interiors, in every way I've done things a little differently this week, a little more creatively, and I'm finding it fun. I have a new lease of life! I've even been more creative with the meal planning, shopping somewhere differently and sourcing a few menu ideas before I went, as I want to try some new things.
Of course, I've also had both children off with me all week, which has been fun. We've been creative ourselves, as both of my kids are artistic and love their crafting, so there's been plenty of that. Then there's also been trying out different types of play and coming up with stories and make believe worlds fuelled by our imaginations.
All of this has had a knock on effect for the blog, too. I've thoroughly enjoyed crafting some of my posts that you'll start to see popping up next week, and they'll give you more of an idea of what I've been up to, too. I'm full of fresh ideas for it, both on the actual writing of posts and also the promotion and social media side, too. I'm buzzing with creativity and all that I need now is an extra few hours each day!
What about you? What one word sums up your week best? Please grab the badge, link up and share.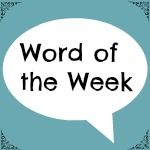 Linky opens at 6.30am Friday, to midnight on Sunday.