Hello and welcome to Word of the Week. One of my favourite parts of my week is reading everyone's words, so thanks so much for taking the time to stop by and link up.
If you're new here, Word of the Week is a nice and simple weekly linky, with everyone welcome to pop by and share. You reflect back on the past week and sum it up in one word. Then share your word with us in a blog post, with as little or as much explanation as you like. It's a fun and friendly linky, so please do be lovely and visit as many of the other blogs as you can and share with them your thoughts on their words and weeks. I do comment on every entry to the linky, and if you add the Word of the Week badge to your post to help spread the 'word', I also tweet them out.
My word of the week this week is:
Oh, this word fits for us in so many ways this week..
– You may have seen my post earlier this week, a letter to my daughter as her Reception year comes to an end. I am so, so proud of her, and a couple of days ago we also had parents evening. It was a chance to chat to her teacher about her moving into Year 1, and Boo has also been preparing for that this week by having an afternoon in her new classroom with her new teachers. She was quite happy there and liked them both (she'll have two teachers job-sharing). Her current teacher has had Boo doing some SATs papers to better benchmark her and pass on to her new teachers, along with her report, preparing them. She has such a lovely class of children, I've not doubt her new teachers will be very happy next year.
– Today Little Man goes to his first nursery session without me, as we are testing the waters. So this week we've been chatting about it and preparing him for it. We'll see how it goes!
– Little Man's HUGGIES Pull-Ups have arrived this week along with a new potty, and I'll be sharing a potty training tips post here soon. I am preparing, but it's not something I'm doing with him for another 2-3 weeks as I want to get over this nursery hurdle first, so as not to throw too many things at him at once.
– I've been preparing for the summer holidays, work-wise. I've been scheduling a few posts in advance and pondering how best to balance the blog, but cut back and spend more time with the kids. It should be fine, and I'm so looking forward to the break with them both.
– Little Man's birthday is creeping up. It's actually not until the beginning of September, but as that falls in the summer holidays, I wanted to get his presents ordered and hidden before the break begins so that I know it's done and I don't have to think about it, and also because I know Boo would be bursting to open them if she was around when they arrived! So along with gifts, I've got him a few party bits and bobs, so I now feel better prepared for his special day.
– We've got a weekend break next week, and then a few days away at the end of the month, so I've bought a few items we need for those, got some more summer clothes in for the kids and we'll also be having some decorating done whilst we're away the second time, so I've been confirming the details of that.
It's a funny thing, preparation. It has a certain sense of achievement without things actually having culminated. It'll be nice when all of these things actually do come to pass!
What about you? What one word sums up your week best? Please grab the badge, link up and share.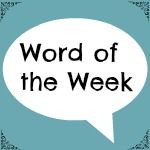 Linky opens at 6.30am Friday, to midnight on Sunday.