Hello and welcome to Word of the Week.
If you're new here, Word of the Week is a nice and simple weekly linky, with everyone welcome to pop by and share. You reflect back on the past week and sum it up in one word. Then share your word with us in a blog post, with as little or as much explanation as you like. It's a fun and friendly linky, so please do be lovely and visit as many of the other blogs as you can and share with them your thoughts on their words and weeks. I do comment on every entry to the linky, and if you add the Word of the Week badge to your post to help spread the 'word', I also tweet them out.
My word of the week this week is:
I now have a 3 year old son, a daughter in year 1 at school, and I've started my Open University studies. It's been a fair old change in one week!
Boo's return to school was on Monday and she was quite happy to see all of her friends again and explore her new classroom. She's delighted in telling me about the changes and differences, compared to Reception, and is settling in well. At the weekend, she also moved up a swim class, which did upset her as she was leaving her friends behind, but I've no doubt they'll be with her again soon and I piled the praise and encouragement on to distract her!
Little Man and I have been getting used to the school runs again and having our days together. We've some new classes lined up over the next week, and we've had our first day of him going to my mum's for the day so that I can get my head down and study. It went well, as I feel like I'm into it now and it was great to be able to sit and work with no distractions (well almost none – must turn my phone off next week!) and he really enjoyed his day with nanny.
The Husband's hours at work have changed this week, and he now works an extra half an hour at the end of each day. We've been getting used to pushing our mealtime back, and changing routines so that it all still works for us, whilst he adjusts to his new hours. His pay has also shifted from weekly to monthly, which has seen me sifting through our accounts and changing direct debits about to allow for it.
I'm also making a few changes round the house, trying to make things more organised and better for us. My planners are now in full use here!
Then there's the change in the seasons. I love summer, it's my favourite season as I am happiest in the heat and the sunshine. But I have come to appreciate autumn as I enjoy seeing the changing colours, and it's nice to have a rifle through my wardrobe and pull out my snuggly jumpers again. I am adapting to the change!
What about you? What one word sums up your week best? Please grab the badge, link up and share.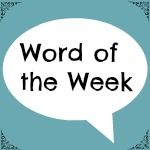 Linky opens at 6.30am Friday, to midnight on Sunday.