Hello and welcome to Word of the Week!
If you're new here, Word of the Week is a nice and simple weekly linky, with everyone welcome to pop by and share. You reflect back on the past week and sum it up in one word. Then share your word with us in a blog post, with as little or as much explanation as you like. It's a fun and friendly linky, so please do be lovely and visit as many of the other blogs as you can and share with them your thoughts on their words and weeks. I do comment on every entry to the linky, and if you add the Word of the Week badge to your post to help spread the 'word', I also tweet them out.
My word of the week this week is:
I'm talking nursery, school and university this week, so education has definitely dominated.
Let's start with nursery. You may have spotted my post earlier this week about settling a reluctant 3 year old into nursery, and I know I've mentioned it here before.  My son has fallen into the kicking and screaming category where starting nursery is concerned and it has been hard. But, I am thrilled to report that this Tuesday, for the very first time, he did not complain about going from the moment that he woke up, he didn't object to getting ready and there were no tears when I dropped him off. No tears! That has not happened before! I was so very happy. Of course, he's now off until after half term so we might take a step back after that, but I feel we are making great progress. He also received a certificate for good behaviour, which is proudly up on the wall and he is showing it off to every visitor to the house.
Onto school and this one is for two reasons. Firstly, my younger nephew has had his GCSE options evening this week, so there's been plenty of chat about that and he's now got a month to make his mind up on what he'd like to do. Secondly, my girl has had her parents evening this week, where all the areas she needs to work on have been highlighted to us. Oh yes, there's a fair old list, which considering she is achieving, and in most cases over-achieving across the board, is a funny old thing. As you can imagine, it's been the talk of the school run too, as it appears that the kids aren't receiving much in the way of positive feedback, more a list of what they need to do better. They are 5 and 6 years old. It feels a bit much. My daughter is happy going to school, she is confident, kind, sociable and can do every task they set her. Good enough for me.
And finally, it's about me and my OU degree. I've been cramming as much study time in as I can this week, aware that with half term looming, I'd like to take a break from it and enjoy time with the kids next week. Yesterday was also the day that we could start registering for our next module to start in October, so I've been in touch with my tutor to ensure I'm on the right lines with my current studies and I'm happy that I'm right to pursue history. I'm doing an Open degree, which means that I can choose pretty much any subject, but I'm enjoying history so I am sticking with that. I have made my selection and opted for a course on Early modern Europe: society and culture c.1500-1780. I'm really looking forward to it, I just have three more assignments and an exam to get through on my current course first…!
What about you? What one word sums up your week best?
Please grab the badge, link up and share.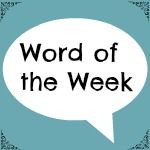 Linky opens at 6.30am Friday, to midnight on Sunday.