Hello and welcome to Word of the Week. One of my favourite parts of my week is reading everyone's words, so thanks so much for taking the time to stop by and link up.
If you're new here, Word of the Week is a nice and simple weekly linky, with everyone welcome to pop by and share. You reflect back on the past week and sum it up in one word. Then share your word with us in a blog post, with as little or as much explanation as you like. It's a fun and friendly linky, so please do be lovely and visit as many of the other blogs as you can and share with them your thoughts on their words and weeks. I do comment on every entry to the linky, and if you add the Word of the Week badge to your post to help spread the 'word', I also tweet them out.
My word of the week this week is:
Hooray!
Last Friday saw my nephew turn 19, earlier this week the Husband had a couple of days off to celebrate his birthday and we're now happily preparing for my birthday tomorrow. We are those adults that do still get excited by our birthdays and never ever work them. Plans have been pretty low-key this year, as Boo had to go to school still on the Husband's birthday and my day tomorrow will kick off with taking her swimming, but still, there will be presents, cake, family and balloons. What's not to love?
What about you? What one word sums up your week best? Please grab the badge, link up and share.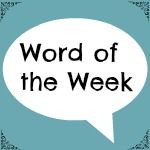 Linky opens at 6.30am Friday, to midnight on Sunday.