Hello and welcome to Word of the Week. I cannot believe that we're only a few weeks from Christmas already, another year of WotW flying by!
If you're new here, Word of the Week is a nice and simple weekly linky, with everyone welcome to pop by and share. You reflect back on the past week and sum it up in one word. Then share your word with us in a blog post, with as little or as much explanation as you like. It's a fun and friendly linky, so please do be lovely and visit as many of the other blogs as you can and share with them your thoughts on their words and weeks. I do comment on every entry to the linky, and if you add the Word of the Week badge to your post to help spread the 'word', I also tweet them out.
My word of the week this week is:
Yes, that's where I feel I've been all week!
This weather is not inspiring me to get out at all. At the weekend, we did go out to the National Pet Show, which we all loved, though that of course was indoors. Other than that, we've popped to see family, indoors, and my only fresh air has been the school runs.
A few times this week, Little Man and I have planned to go out for a walk and then it's started lashing it down, or he's asked to go to the playground amid a storm! It's been frustrating when we've fancied the exercise and change of scenery.
But then, it has had it's upsides. We've had lots of snuggles, watched some fun movies, and I've really enjoyed seeing my son immerse himself in imaginary play, be it castles, Toy Story, superheroes, Duplo, Playmobil, Star Wars or Play Doh, he's absolutely loved it.
And then once the kids have gone to bed, I've been quite content relaxing on the sofa and getting lost in my books, managing to read 3 this week and I treated myself to a magazine, too, which was a nice change. Indoors has it's pluses!
What about you? What one word sums up your week best?
Please grab the badge, link up and share.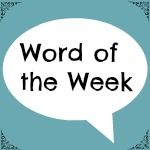 Linky opens at 6.30am Friday, to midnight on Sunday.