Hello and welcome to Word of the Week! Thanks to those of you that linked you last week, as always, it was lovely reading all of your posts. And thanks for all of the anniversary and weekend away well-wishes, lovely of you all. We had a great time, thank you, and of course, it flew by!
If you're new here, Word of the Week is a nice and simple weekly linky, with everyone welcome to pop by and share. You reflect back on the past week and sum it up in one word. Then share your word with us in a blog post, with as little or as much explanation as you like. It's a fun and friendly linky, so please do be lovely and visit as many of the other blogs as you can and share with them your thoughts on their words and weeks. I do comment on every entry to the linky, and if you add the Word of the Week badge to your post to help spread the 'word', I also tweet them out.
My word of the week this week is:
We have, at last, redecorated our kitchen.
We extended and put a new kitchen into our home 8 years ago, so it had been starting to look a bit tired and in need of re-painting. We bought the paint towards the end of last year, and then struggled to find the time to do it, so we finally got a man in to do it, and he's been and freshened it all up this week. I am so happy! So this week has been all about dust sheets, paint smells, shouting 'no' urgently at the kids whenever they went near any drying paintwork, and shopping for new accessories for it. We'd bought a new toaster, kettle and microwave a few weeks ago in readiness, so we've got those out and rearranged all of our work tops, furniture, cleared out cupboards, and it's now feeling like I have a brand new kitchen. Amazing what a lick of paint can do!
And yes, of course I'll show you the pictures. Just pop by the blog next week for the makeover post…
What about you? What one word sums up your week best? Please grab the badge, link up and share.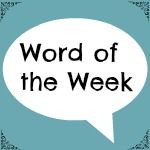 Linky opens at 6.30am Friday, to midnight on Sunday.