Hello and welcome to Word of the Week. Thanks to those of you that linked up last week, I look forward to reading all about your weeks this week.
If you're new here, Word of the Week is a nice and simple weekly linky, with everyone welcome to pop by and share. You reflect back on the past week and sum it up in one word. Then share your word with us in a blog post, with as little or as much explanation as you like. It's a fun and friendly linky, so please do be lovely and visit as many of the other blogs as you can and share with them your thoughts on their words and weeks. I do comment on every entry to the linky, and if you add the Word of the Week badge to your post to help spread the 'word', I also tweet them out.
My word of the week this week is:
I was already feeling pretty good, work-wise, at the end of last week, and then I went along to Tots100 BlogCamp in Birmingham on Saturday, and that made me feel even better.
First and foremost, I met with so many lovely bloggers, some I've met before, some I consider to be good friends now and some I'd been wanting to meet for some time. Seeing and chatting with so many familiar faces made for a great day, and a good mood. And then there was the content of the day, the sessions that inspired me. I took something from every single one of them, scribbled down plenty of notes, and returned home happy and inspired. I've been that way every since.
I have updated my blogging goals, have been fortunate enough to receive some really interesting work from various companies this week, as well as pitching some of my own ideas which are coming together now. I've been enjoying interacting over on social media and have had a few new ideas there, too. I feel like I'm nice and busy and it is actually getting me somewhere.
So yes, a good week on the blogging front here, I've loved having a week filled with paper thanks to National Stationery Week, and both of the children have been well, happy and full of fun, all contributing to my continuing good mood!
What about you? What one word sums up your week best? Please grab the badge, link up and share.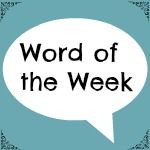 Linky opens at 6.30am Friday, to midnight on Sunday.