Hello and welcome to Word of the Week.
If you're new here, Word of the Week is a nice and simple weekly linky, with everyone welcome to pop by and share. You reflect back on the past week and sum it up in one word. Then share your word with us in a blog post, with as little or as much explanation as you like. It's a fun and friendly linky, so please do be lovely and visit as many of the other blogs as you can and share with them your thoughts on their words and weeks. I do comment on every entry to the linky, and if you add the Word of the Week badge to your post to help spread the 'word', I also tweet them out.
My word of the week this week is:
It's been one of those weeks where I've been here there and everywhere, and things have been all out of sync. My lovely new planner has come in handy.
Little Man's had his flu spray and a haircut this week. Both were preceded with protestations, both involved tears and shouts on arrival, both went off without a hitch once he actually gave in and accepted his fate!
Boo's had her first year 1 parents evening, which was OK – uneventful is probably how I'd best describe it. As we had that booked in one evening, I then needed to move my study day to another day to make it easier for my mum watching Little Man and then helping us out for parents evening (thanks, mum!), which also had the knock on effect of moving my normal shopping slot appointment. It all served to confuse me about which day we were on when!
And finally, the weekend saw me attending my first OU tutorial and needing to get there on time, after getting Boo to and from her swimming class. I was then also out on Sunday, meeting up with a couple of lovely friends, which though perhaps not 'an appointment' it was somewhere I needed to be. It also meant that flying about for that, and then fitting everything else in around it, I forgot to message my little brother on his wedding anniversary (I had sent a card, I remembered that!). My guilt is great, the first ball has been dropped. I'm hoping it's the last. This parenting, blogging, studying malarkey is a tricky thing to balance.
I do hope next week's a little quieter…
What about you? What one word sums up your week best? Please grab the badge, link up and share.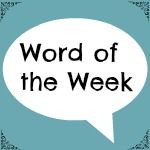 Update: The linky list is now working! Thanks for your patience.
Linky opens at 6.30am Friday, to midnight on Sunday.