Hello and welcome to Word of the Week!
If you're new here, Word of the Week is a nice and simple weekly linky, with everyone welcome to pop by and share. You reflect back on the past week and sum it up in one word. Then share your word with us in a blog post, with as little or as much explanation as you like. It's a fun and friendly linky, so please do be lovely and visit as many of the other blogs as you can and share with them your thoughts on their words and weeks. I do comment on every entry to the linky, and if you add the Word of the Week badge to your post to help spread the 'word', I also tweet them out.
My word of the week this week is:
Oh, it could have been so many words this week! Happy, Excited, Books (if you've seen my social media this week you'll know I have spent a lot of time, and money, on books!), Celebrations, Relaxed, Cake – you see so many possibilities! But it just has to be 'thanks'.
I am thankful for the little break that the Husband and I had, we had lots of fun and it was good to get a few days together. He was so good spending two of those days roaming around book shops, which is not his thing at all, but he did it anyway knowing how happy it made me and there was always cake available at the end!
I have been saying 'thanks' so much this week. I have had so many lovely birthday messages across social media, from last week's Word of the Week, and from family and friends. I don't think I've ever received quite so many well wishes, it has been wonderful.
I was fortunate to receive lots of treats, from candles to flowers to chocolates to gadgets to clothes and accessories to the most beautiful writing desk that my husband bought for me. I also had some money which I spent on books, books and more books! Lots more to say 'thanks' for.
It really has been a great week, and it's just a good job that the sun has come back out now as I am always in a good mood when the sun shines so I haven't taken a post-break dip in mood, thanks to the weather. I am off to Gardener's World Live today with my green-fingered mum, so I'm looking forward to that and 'thanks' to my mum as she's supplying lunch!
What about you? What one word sums up your week best?
Please grab the badge, link up and share.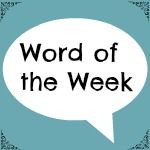 Linky opens at 6.30am Friday, to midnight on Sunday.