Hello and welcome to Word of the Week.
If you're new here, Word of the Week is a nice and simple weekly linky, with everyone welcome to pop by and share. You reflect back on the past week and sum it up in one word. Then share your word with us in a blog post, with as little or as much explanation as you like. It's a fun and friendly linky, so please do be lovely and visit as many of the other blogs as you can and share with them your thoughts on their words and weeks. I do normally comment on every entry to the linky, and if you add the Word of the Week badge to your post to help spread the 'word', I also tweet them out.
My word of the week this week is:
I knew that this would be an emotional week for Boo. This is her last week in Reception, and she will miss her teacher, her classroom and their special outside play area. Fortunately, the class are all staying together as they move into year one, so she is happy about that. She is a child that rolls with changes pretty well, but she's also very much a people person, so moving on from her teacher will be hard.
As you know, at the end of last week, I was also planning to get Little Man settled into nursery, and left him for the first time there. He cried the entire time, and when I went to collect him, I could hear him screaming from outside the nursery. The poor little thing, he was so emotional and scared, I made the decision to defer his place until January. He is just not ready yet.
And then there's been the big one, the one that's been killing me all week. At the weekend, we had to have our dog, Harry, put down. We knew he had cancer, but we had hoped he had a lot more time left. He'd been OK last week, but then on Sunday, he just couldn't get up, barely responded to us and lost his appetite. We knew it was time. I have been crying since then. I miss him so much.
I am desperately hoping that this will ease soon and all of us can have a holiday filled with happy emotions only, starting this weekend as we're off away for a couple of days. So please do forgive me this week, WotWers, if I don't get round to you. I am really struggling to sit and work, needing to be out of the house, and with going away and the holidays, I'm afraid I might not catch up. I will make it up to you next week, I promise.
What about you? What one word sums up your week best? Please grab the badge, link up and share.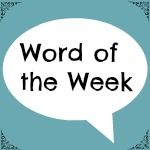 Linky opens at 6.30am Friday, to midnight on Sunday.