Hello and welcome to Word of the Week, the final one of 2015 – wow, that time has flown! As next Friday is Christmas Day and the following one New Year's Day, Word of the Week will be taking a little break. Of course you're more than welcome to blog your word if you want to round the year off, but I won't be here with my linky as I'd like to take a little break with my family. But do not fear, I will be continuing it into 2016 so it will be back on Friday 8th January 2016.
And so I would like to take this opportunity to thank every single one of you who has linked up with #WotW this year. It's been an absolute pleasure reading all of your posts and I appreciate you all taking the time to join in. I hope you've enjoyed it, too, and it'd be lovely to see you back in 2016. Thank you!
If you're new here, Word of the Week is a nice and simple weekly linky, with everyone welcome to pop by and share. You reflect back on the past week and sum it up in one word. Then share your word with us in a blog post, with as little or as much explanation as you like. It's a fun and friendly linky, so please do be lovely and visit as many of the other blogs as you can and share with them your thoughts on their words and weeks. I do comment on every entry to the linky, and if you add the Word of the Week badge to your post to help spread the 'word', I also tweet them out.
My word of the week this week is:
Well it just had to be, didn't it? I suppose it could have been manic, crazy, fun, busy or sociable, too, but let's just go for Christmas!
Boo's been to the pantomime with school, performed Christmas carols, had a Christmas party, Little Man's party is this morning, we're all taking part in Christmas jumper day today, the gifts are now wrapped and I am well and truly ready for the end of school today so that Christmas can really commence. Phew!
I'm also very relieved to report that Little Man's had his first settling-in session at nursery this week and he enjoyed it, so after the Christmas break my boy will start going there for two school days a week. It's a big relief after he really didn't take to it earlier this year, so whilst I'm under no illusions that he'll happily go in every day, I can relax over Christmas now knowing that he will settle and be happy there.
So from mine to yours, I wish you and your families a fabulous festive time, filled with laughter and love.
Merry Christmas!
What about you? What one word sums up your week best?
Please grab the badge, link up and share.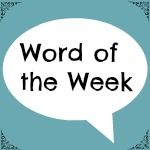 Linky opens at 6.30am Friday, to midnight on Sunday.