Hello and welcome to Word of the Week.
If you're new here, Word of the Week is a nice and simple weekly linky, with everyone welcome to pop by and share. You reflect back on the past week and sum it up in one word. Then share your word with us in a blog post, with as little or as much explanation as you like. It's a fun and friendly linky, so please do be lovely and visit as many of the other blogs as you can and share with them your thoughts on their words and weeks. I do comment on every entry to the linky, and if you add the Word of the Week badge to your post to help spread the 'word', I also tweet them out.
My word of the week this week is:
Yes, I know this could often be my word, but this week it covers so much!
Last weekend I launched my new paper-loving initiative, #SundayStationery. A chance to browse and ogle pretty stationery every weekend, and so easy to get involved with, too. You can find out more about it here if you're partial to a little stationery yourself, it kicks off this weekend.
I've had lots of new books. Like I needed more on my reading pile? If you saw my post on Wednesday, you'll know that I had the absolute pleasure of working with The Beautiful Book Company, so I've received some great reads from them (there are some up for grabs, too!) and I couldn't resist a forage about in the second hand bookshop on a National Trust outing at the weekend – four more books bought, must make time to read more!
I've had my second full day of Open University studying, and there's something so satisfying about having text and source books to get lost in, whilst making copious notes in my pretty notebook. I'm thoroughly enjoying immersing myself in it all each week, so I do hope that this passion lasts and I am actually on the right track – the first assignment will tell me, I suppose.
I've received some lovely snail mail this week. I'd had a bit of a happy mail drought, as happens at times, but with a dozen pen pals, it shouldn't happen too often! Well, the drought is over as I've received some lovely letters this week, which has been great. I've also signed up to the back to school stationery swap over at The Crafty Lass and have received my partner's details this week, so I'll be putting together a papery package for her over the weekend.
And the final bit of paper? I have a new planner. Yes, with this month's drive to Get Organised, I really wanted to get one of those gorgeous all-encompassing planners, spiral bound, with stickers and charts – I now have one and I am happy! I'll reveal more next week…
What about you? What one word sums up your week best? Please grab the badge, link up and share.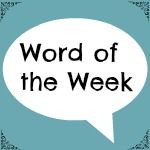 Linky opens at 6.30am Friday, to midnight on Sunday.