Hello and welcome to Word of the Week. One of my favourite parts of my week is reading everyone's words, so thanks so much for taking the time to stop by and link up. Thanks for all of your birthday wishes last week, too, it was lovely thank you.
If you're new here, Word of the Week is a nice and simple weekly linky, with everyone welcome to pop by and share. You reflect back on the past week and sum it up in one word. Then share your word with us in a blog post, with as little or as much explanation as you like. It's a fun and friendly linky, so please do be lovely and visit as many of the other blogs as you can and share with them your thoughts on their words and weeks. I do comment on every entry to the linky, and if you add the Word of the Week badge to your post to help spread the 'word', I also tweet them out.
My word of the week this week is:
It was a close-run thing this week, between 'anxious' or 'Fitbit'. I've gone with Fitbit as it's dominated a day or two more, and today my anxiety is subsiding. Why anxious? I've had a poorly dog here. On his visit to the vet on Monday we were advised he'd need an X-Ray as a tumour was suspected. There was then an anxious few days wait until his appointment yesterday. I'd convinced myself I was saying goodbye to him yesterday, but I'm delighted to report that last night a very woozy, wobbly and sore little Harry returned home to me having had his spleen and tumour removed. We await the biopsy results, but for now, he's home and I have a patient to be taking care of. My anxiety is easing for now.
So onto this Fitbit….
I asked for a Fitbit for my birthday, and the Husband came through and bought me a Fitbit Charge (along with loads of other treats, I was spoiled!). I wisely elected not to wear it on my birthday – who wants to monitor their calorie intake when there's birthday cake and trifle around?! But then I put it on that evening to go to bed, and so it began..
In case you don't know what it is, it basically measures my activity levels. On my wrist is the time, steps I've walked each day, calories burned, miles travelled and flights of stairs I've walked up. It then links up with my PC (you can sync it with most phones, but it's not yet compatible with mine, which may be a good thing, as I'd no doubt look at it even more then!) and there I have keyed in my weight loss goal, too. So I record there what I eat and drink throughout the day, and it reminds me to log my 8 glasses of water, and then checks in on my activity and calories burned, advising me how many more calories I can eat that day – if I go over, I need to move more to compensate! It also monitors my sleep, as in how much I had, when, whether I was restless, awake through the night and so on. I find that interesting, though it's of little use to me!
I'm walking a lot more this week. I'm eating a lot less this week. The Fitbit is making me do it. This slim little black thing on my wrist has me under it's spell, and I'm enjoying it. I'm finding it fun. I'm trying to have walked my 10,000 steps earlier and earlier each day (it does a little celebratory vibration when you hit that milestone!), and though it's telling me on the 'hard' plan that I'll have hit my weight goal by early September, I'm finding myself competitive with the Fitbit itself and want to do it sooner! So one week in, it's fair to say that I like it… Have you got one?
What about you? What one word sums up your week best? Please grab the badge, link up and share.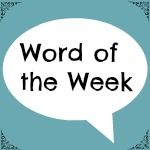 Linky opens at 6.30am Friday, to midnight on Sunday.