Hello and welcome to Word of the Week.
If you're new here, Word of the Week is a nice and simple weekly linky, with everyone welcome to pop by and share. You reflect back on the past week and sum it up in one word. Then share your word with us in a blog post, with as little or as much explanation as you like. It's a fun and friendly linky, so please do be lovely and visit as many of the other blogs as you can and share with them your thoughts on their words and weeks. I do comment on every entry to the linky, and if you add the Word of the Week badge to your post to help spread the 'word', I also tweet them out.
My word of the week this week is:
Yes, I've had this word before, but this week it just fits perfectly, so it has to be 'paper' again.
The weekend saw me getting some new sheets of paper in ready to use as a background to photograph my Ultimate Stationery Gift Guide, which did of course, include lots of paper! We also spent time on our paper craft, handprint Christmas tree, something that the kids adored doing. As we had a couple of handprints left over, I also thought of another fun papery activity to do with those which you'll see coming up soon on the blog.
We have our Christmas cards now, so I have made a start on writing a few of those. I'm also going to be reviewing some Christmas wrapping paper soon, so that's arrived this week and I've wrapped a couple of gifts to test it out.
I have a new planner in my life. I am in love with it! It's a Hobonichi planner, and there's a competition to win one, too – you're welcome.
I've been perusing magazines trying to find one that I like enough to have a subscription to as a Christmas gift. I do like getting one through each month, as I so rarely go out and buy them. I fondly remember my Cosmo and Glamour days, but this time, it's Woman and Home that's drawn me- yep, I'm that old already!
Mid-week I had my usual few child-free hours to get my head down and study. I was surrounded by books, scribbling away on paper and printing off my next assignment details ready for me to crack on with next week. I'm pleased to report that I had my first assignment back this week with a score better than I'd expected and some really useful and positive feedback, so my enthusiasm remains high.
And finally, I've made a start on the books that I received with my Beautiful Book Company box. I'm reading The Rosie Project and thoroughly enjoying it so far, hugely improbable though the premise actually is.
What about you? What one word sums up your week best?
Please grab the badge, link up and share.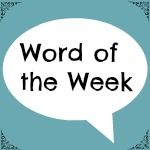 Linky opens at 6.30am Friday, to midnight on Sunday.