Hello and welcome to Word of the Week! Thanks to those of you that linked you last week, as always, it was lovely reading all of your posts. I do love having you pop by here each week!
If you're new here, Word of the Week is a nice and simple weekly linky, with everyone welcome to pop by and share. You reflect back on the past week and sum it up in one word. Then share your word with us in a blog post, with as little or as much explanation as you like. It's a fun and friendly linky, so please do be lovely and visit as many of the other blogs as you can and share with them your thoughts on their words and weeks. I do comment on every entry to the linky, and if you add the Word of the Week badge to your post to help spread the 'word', I also tweet them out.
My word of the week this week is:
Thinking to that point that I've been struggling to switch off at night, feeling restless all of the time and getting easily frustrated. So not necessarily good thinking!
There have been a couple of main areas I've been pondering on. The first is right here, this blog. I've been thinking about stopping it and all that that would change in my world. Why would I walk away from such a beloved thing? I was hacked a few days ago, and too much of my time, thoughts, energy and stress have been spent dealing with it. It's not a great feeling, and I felt I was teetering on the edge of a precipice, though I know that sounds dramatic. But when you've spent so long building something, and then you're confronted with the possibility of it becoming blacklisted and having to take it down and start afresh, you do reconsider things. It's been horrible and speaking as someone who knows very little about coding and software, I've felt a little lost. It is now fixed, fortunately, so at least that one's less thing for me to have to think about now, so I will stay right here, blogging away.
I also discovered last week that the OU degree I started many years ago and completed a third of needs to be all done by 2019 in order for me to keep those two years worth of work or they'll expire. I'd planned to go back to it when Little Man started school in two years time, but clearly time isn't going to be on my side on this one. So do I get back into it this September, giving me the four years I need to finish it, or shall I just leave it and never have a degree? I know I could start all over again in a few years, but I wouldn't do that knowing I'd wasted those credits and with it being so much more expensive now. I don't necessarily need it, I know, though I kind of wanted it and I was looking forward to studying again, though not with the pressures of everything else at the same time. Still thinking on it….
Oh, and then there have been the every day things. Trying some new meal planning, finding out Boo needs a Fairytale costume for next week at school, starting to think about what we'll need to do before and for our holiday in just over a week, thinking up blog posts to schedule for that time. You know, just thinking. A lot!
What about you? What one word sums up your week best? Please grab the badge, link up and share.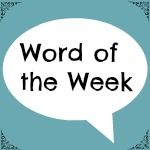 Linky opens at 6.30am Friday, to midnight on Sunday.