Hello and welcome to Word of the Week.
If you're new here, Word of the Week is a nice and simple weekly linky, with everyone welcome to pop by and share. You reflect back on the past week and sum it up in one word. Then share your word with us in a blog post, with as little or as much explanation as you like. It's a fun and friendly linky, so please do be lovely and visit as many of the other blogs as you can and share with them your thoughts on their words and weeks. I do comment on every entry to the linky, and if you add the Word of the Week badge to your post to help spread the 'word', I also tweet them out.
My word of the week this week is:
Boo will be 6 tomorrow. She is having her first big party, and she is rather excited!
She has been on countdown to it all week, as you'd imagine any near 6 year old would be. I have been checking last minute numbers, getting the cake, party food, filling party bags and confirming arrangements. After her party, which takes place late tomorrow morning, we will then be returning home to have an informal family party. So I have been getting the house ready, getting more food in for this, the balloons will be blown up tonight, and of course actually getting her presents wrapped and all ready for the morning (all of this with the added fun of our fridge-freezer breaking down midweek, too, and getting a new one in urgently to house party food!).
All birthdays are exciting, and this one comes with a party. I am so hoping that she enjoys every second of it.
What about you? What one word sums up your week best? Please grab the badge, link up and share.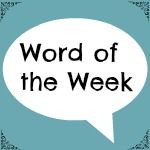 Linky opens at 6.30am Friday, to midnight on Sunday.